Lizard Kissing Love

Send a link to a friend
[August 26, 2010] --Officer Tori Matthews works for the Humane Society of Southern California. She received an interesting emergency call asking for assistance with a boy's pet iguana. It seems his iguana had been scared up a tree by a neighbor's dog. It then fell from the tree into a swimming pool, where it sank like a brick. Tori dived into the pool, emerging seconds later with the pet's limp body.
As the Arizona Republic Newspaper reported, she thought, "Well, if you can do CPR on a person and a dog, why not an iguana?" So she locked lips with the lizard.
"Now that I look back on it," she said, "it was a pretty ugly animal to be kissing, but the last thing I wanted to do was to tell this little boy that his iguana was dead." The lizard responded to her efforts and is expected to make a full recovery.
Tori Matthews didn't see a waterlogged reptile; she saw a little boy's beloved pet. We may never see the beauty in some people, but seeing them through the eyes of God does change our perspective.

Jesus said there are two great commandments that every person must place as first priority in their lives. Love God and love others.
What does love for God and love for others look like? Jesus said, "If you love me, you will keep my commandments (John 14:15). We show our love for God by doing what He has asked us to do. Jesus attached loving God with doing what God said.

All right, what did God say to do? This is great! He told us to love others. Jesus said, "A new commandment I give you, that you love one another, even as I have loved you…by this the world will know that you are my disciples, if you have love for one another (John 13:34,35)."
Love becomes the proof to the world that we are truly followers of Jesus. It's not by quoting scripture or attending church. It's by how we love those around us. If you listened for a moment to the way you talk about people behind their back, would it give proof to the world you were a follower of Jesus or would you conclude something else?

Let's face it; we all have iguanas around us. Everyone has a person who is difficult to love. Everything about them causes you to grind your teeth and wag your head. But that's not acceptable is it? If I want to keep the two greatest commandments in the Bible, it is imperative that I find a way to love them as I am loving God.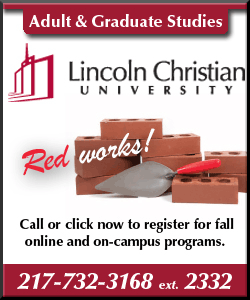 There is one solution that I have found that helps; see them as God special belonging. Tori Matthews didn't see a dead iguana; she saw a little boy's beloved pet. I need to do the same.

Loving God; loving others! It's not easy, I know, but it's what makes us like Jesus. So pucker up! An iguana in your life needs some love. (You know what I mean.)
[text from file received from Ron Otto,
Lincoln Christian Church]