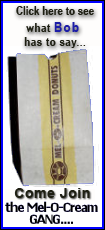 The Cristina Saralegui (sahr-uh-LEH'-gee) show has featured the Latino community's biggest stars and does topical programs. That's much like Oprah Winfrey's show, which is ending next year after 25 seasons.
"Cristina" had been a daily program but recently became a weekly show on Univision, the nation's top-rated Spanish-language network. Univision says Saralegui will host specials for it in the future.
Saralegui calls it a "bittersweet moment" in ending her show. But she says she's looking forward to the next phase of her career.