On Aug. 27, 1883, the island volcano Krakatoa blew up; the resulting tidal waves in Indonesia's Sunda Strait claimed some 36,000 lives in Java and Sumatra.
On this date:
In 1858, the second debate between senatorial candidates Abraham Lincoln and Stephen A. Douglas took place in Freeport, Ill.
In 1859, Edwin L. Drake drilled the first successful oil well in the United States, at Titusville, Pa.
In 1892, fire seriously damaged New York's original Metropolitan Opera House.
In 1908, Lyndon Baines Johnson, the 36th president of the United States, was born near Stonewall, Texas.
In 1928, the Kellogg-Briand Pact was signed in Paris, outlawing war and providing for the peaceful settlement of disputes.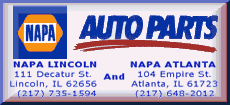 In 1962, the United States launched the Mariner 2 space probe, which flew past Venus in December 1962.
In 1975, Haile Selassie (HY'-lee sehl-AH'-see), the last emperor of Ethiopia's 3,000-year-old monarchy, died in Addis Ababa at age 83 almost a year after being overthrown.
In 1979, British war hero Lord Louis Mountbatten and three other people, including his 14-year-old grandson Nicholas, were killed off the coast of Ireland in a boat explosion claimed by the Irish Republican Army.
In 1989, the first U.S. commercial satellite rocket was launched from Cape Canaveral, Fla. -- a Delta booster carrying a British communications satellite, the Marcopolo 1.
In 2006, a Comair CRJ-100 crashed after trying to take off from the wrong runway in Lexington, Ky., killing 49 people and leaving the co-pilot the sole survivor.
Ten years ago: During a visit to Nigeria, President Bill Clinton said Africans had to "break the silence" about AIDS or risk losing hard-fought democratic and economic gains. Fire broke out in Moscow's landmark Ostankino television tower, killing three people. A botched Israeli military raid on an Islamic militant hide-out in the West Bank ended with three Israeli soldiers being accidentally killed by their comrades.