2010 Lincoln Art & Balloon Festival best ever
Chamber president gives thanks to all involved
By Deron Powell

Send a link to a friend
[August 31, 2010] What an outstanding weekend we had for the 2010 Lincoln Art & Balloon Festival. On behalf of the Lincoln/Logan County (Chamber of Commerce) board of directors, our sincere thank you to the many who helped this event take place.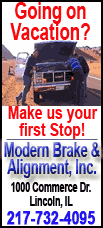 Thank you to the city of Lincoln and Logan County public officials and employees who supported our event through their financial commitments and hours of labor. Lincoln looked outstanding! Also, to the many volunteers who helped spruce up the downtown area through your time and donations of material.

Thank you to the hundreds of volunteers and the coordinators who gave so many hours out of their schedules to make this annual festival a success. This year it took over 400 volunteers, both downtown and at the airport, to make sure this event was safe and enjoyable for all. Without our army of volunteers, an event of this size would not be possible.

Thank you to the artists, the pilots and their crews. The creativity and beautiful balloons you bring to our city each year make this the premier family event in central Illinois.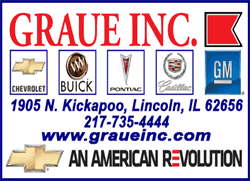 Thank you to our vendors, crafters, caterers and wineries for their continued participation and support.
Thank you to Main Street Lincoln and The Oasis for hosting and organizing such a successful Art of Wine and flea market. The addition of the wine tasting and flea market has really helped bring the Lincoln Art & Balloon Festival to new level that engages a broader crowd. We appreciate partnering with you and your organizations.
And I want to extend a huge thank you to all our sponsors at every level. We know that this event doesn't take place without that financial commitment, whether individually or through your business. It takes thousands of dollars to bring in the artists and pilots. Your generosity ensures that they will continue to want to come back to our community each year.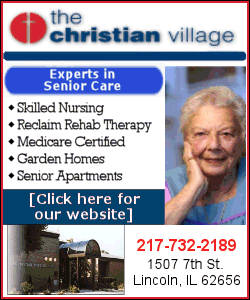 Thank you to the current chamber board of directors. You each stepped up and assisted whenever you were asked. I could not be more fortunate to have such an outstanding group of individuals who help plan our event throughout the year.
Thank you really isn't enough to the chamber staff, led by our executive director, Andi Hake, and our event coordinator, Heidi Browne. Your team was exceptional, and we are lucky to have each and every one of you! Thank you for the extra time away from your friends and families so that our festival was as smooth and successful as possible.
Thank you to our local businesses that opened their doors to the many visitors who came into our communities. We hope you also had a successful weekend and were able to show off your talents, products and services.
Lastly, a thank you to all the citizens of Lincoln and Logan County. YOU are our greatest asset and the reason that we tell others that Lincoln and Logan County is a great place to do business! Thank you for attending our event and making it the biggest in its 37-year history.
We are always open to new ideas and new members for our organization. Please stop by the Information Station or give the chamber a call at 217-735-2385.
[By DERON POWELL, Lincoln/Logan County Chamber of Commerce president]