Festival footnotes

Send a link to a friend
[August 30, 2010] The hotels and motels in Lincoln have had a very good month. Starting with some bookings for the county fair, the lodges were then filled with state fair goers for 10 days, and they were all booked solid for this weekend's activities. That's all motel-hotel taxes that help pay for our continued efforts to promote our city for tourists.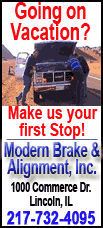 Talking to three convenience stores/gas stations, they too had a great weekend. Foods, drinks and gasoline sales were all excellent at the three we talked to.

Dom Dalpoas, executive director of The Oasis, said this year's crafts and flea market event at Scully Park topped the charts. The park had 103 vendors this year and that is capacity at the park. Dalpoas said many vendors from other states enjoy coming to the Lincoln Art & Balloon Festival because everything is so organized and they love the park.

It is a subjective answer, but the question of just what percentages of the crowds around town were from out of town was asked of dozens of people.

The answers ranged from 60 to 65 percent all the way up to 90 percent.
Roy Logan at the park district thought the crowds were heavily from out of town. "I know a lot of people in Lincoln, and looking around this crowd at the airport I hardly see anyone I know," he said.
The answer to how many visited the festival this year will never actually be known. Head counts at events aren't taken, and since many people go to the airport and to all the activities downtown, many several times during the weekend, the only number we can come up with is: "It was a whole bunch."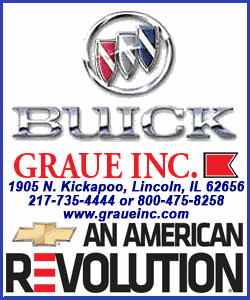 Many of the vendors said they had really good sales and some local ones did well too. The United Way sold over $400 in tickets for their $500 IGA grocery raffle, and the Humane Society of Logan County with their handbags sale had gone over $1,000 profit with much of Sunday still to go.
Congratulations to Don Lanterman. Don won the quilt auctioned off at the Heritage In Flight Museum raffle.
On Thursday we carried a picture of a group of youngsters working to make All Veterans Park look good for our weekend guests. Mayor Keith Snyder was impressed with the youths' efforts and sent every one of them a free pass to this year's art and balloon fest.
[LDN]