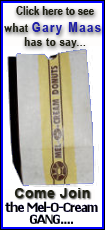 During an appearance taped for Monday night's "The Colbert Report" on Comedy Central, the fake pundit said the former Tennessee congressman established his New York residency by spending "six minutes" at the interview table.
He also complimented Ford for taunting the media with confusing explanations he has given about his positions on abortion rights and gay marriage.
Ford represented a Tennessee district in Congress for 10 years. He moved to New York City after losing the 2006 U.S. Senate race. He's considering challenging New York Sen. Kirsten Gillibrand (KEHR'-sten JIL'-uh-brand) in the Democratic primary.
Gillibrand was appointed to the seat by New York's governor when Hillary Rodham Clinton became U.S. secretary of state.