In the 6 and under, Austin O'Donoghue and Cade Tanner took home first place, and Kia Chrvalho and Tony Gandolfi took fourth place. For 7- and 8-year-olds, Trevor Bree took second, Collin Cogdill got third, and Austin Beard took fourth. For 9- and 10-year-olds, Issac Dueringer and Jarrett Poole took second, and Michael O'Donoghue got fourth.

The wrestling team will travel to Monticello next Sunday to compete in the Monticello Kids Open.
---

In the Logan County Pinewood Derby, results are as follows:
Pack 101: 1. Preston Ebelherr, 2. Anthony Brummett, 3. Sean Peyres
Pack 107: 1. Jack Harmon, 2. Brenden Evers, 3. Steven Brown
Pack 111: 1. Austin Dennison, 2. Sean Cale, 3. William Trent
Pack 122: 1. Michael Freer, 2. Dawson Hagan, 3. Colton Hagan
Pack 99: 1. Jacob Kirgan, 2. Clayton Skelton, 3. Denver Hoffert
Pack 105: 1. Brandon Newlun, 2. Austin Sowers, 3. Brison Camp
Pack 121: 1. Xavier Detmers, 2. Connor Zinger, 3. Alex Eads
County finals: 1. Preston Ebelherr, 2. Xavier Detemers, 3. Clayton Skelton, 4. Jacob Kirgen, 5. Sean Peyres, 6. Alex Eads
Special thanks to Lincoln IGA and Lincoln Walmart for their donations.
---

Mount Pulaski VFW is having their annual all-you-can-eat pancakes and whole-hog sausage breakfast on Super Bowl Sunday, Feb. 7. The event is from 7 a.m. to 1 p.m. at the VFW Hall in Mount Pulaski.
---

Washington-Monroe School honor roll
Second nine weeks, 2009-2010
High honors
Third grade: Tony DiPasquale, Wyatt Collier, Cassie Everson, Trey Whitetree
Fourth grade: Titus Cannon, Abbigayle Parrish, Justin Woods, Ethan Goodey, Kelsey Lee, Nathan Long, Ariana Spencer
Fifth grade: Emily Bergman, Danielle D'Andrea, Christian DeVore, Devon McGrew, Lindsey Myers, Macie Rankin, Ashlyn Scruggs, Connor Aeilts, Nolan Hullinger, Cole Kindred, Bryson Kirby, Stephanie Parrott
Honors
Third grade: Kacey Bennett, Laura Centers, Jacob Franklin, Corey Harris, Hilary Lucas, Ivy Pierce, Luke Rogers, Natalie Schaller, Jillian Ruff, Aven Thompson, Maddy Yeates
Fourth grade: Jaiden Aeilts, Allena Benninger, Grace Bossingham, Ryan Boyd, Tabitha Cooley, Adrianna Doolin, Brody Koeppen, Isaiah Lane, Tate Sloan, Braiden Tisdale, Taylor Carter, Justin Hatfield, Josh Linares, Makenzie Murphy, Kevin Rhoades, Kisha Selph
Fifth grade: Kaelin Butterfield, Honna Doolin, Erika Dzenkunskas, Shelbi Fisher, Kyle Freese, Chenille Hubner, Selena Quezada, Izzy Robbins, Kirklin Routson, Josephine Shivers, Seth Turley, Laura Hurley, Jenna King, Alex Linares, Noah Morgan, Trent Whitham
Honorable mention
Third grade: Brian Scanlon, Destini Thompson, Jatrell Belt, Brenden Eigenbrod, Kaleb Franklin, Kennedy Freese, Sara Harding, Haley McDaniel, Harley Naugle, Bryce Watkins
Fourth grade: Jason Beverman, Bradley Rahn, Luke Bennett, Brayden Hunter, Shannon Rahn
Fifth grade: Sydney Dial, Martin Glick, Samantha Johnson, Brock Laubenstein, Austin Newton, Austin Gray, Darian Hardwick, Bryson Maxey, Justin Ruff, Nate Sprague
B.U.G., bringing up grades
Cristobal Quezada, Chad Baldwin, Isabel Mercado, Aubria Cannon, Hailey Ransdell, Meranda Harris, Sydney Anderson
---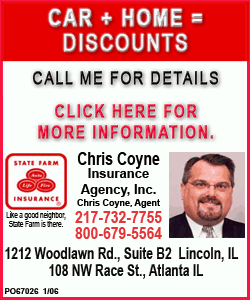 A special meeting of the Humane Society of Logan County board of directors was on Wednesday, Jan. 27, at 7 p.m. at the HSLC office.
Election of officers for the board of directors was held with the following results:
Completing the board are Jill Struebing, Sue Jones and Lynn White as regular members. Dr Lara Borgerson, Lyle Johnson and Larry Pech are advisory members.
---

Saturday, Feb. 6, is the Lincoln Park District's one-day Creative Writing Class. Join Mike Fak to learn tips on writing for pay or for personal enjoyment. The focus will be on learning the methods for writing short stories and memoirs. This will be a fun course while helping you to become a better writer. Coffee will be offered and a light lunch is included. You can contact the park district at 732-8770.
The park district's aerobics classes are going great. If you haven't been attending on a regular basis, now is a perfect time to get going. From A to Zumba, young to old… or should we say, more mature, the district has just the class for you. For the schedules, visit http://www.lincolnparkdistrict.com/. There are classes in the mornings and evenings and a few on Saturday as well. The park district still offers yoga as a program class too.
If you feel like you aren't quite living up to your New Year's resolution of working out and staying fit, perhaps you should join the park district's Sports Center. Anyone joining at an annual level will receive a 10 percent discount in district or out of district. You must join before Feb. 15. The park district has just recently started accepting Visa, Master Card and debit cards for the purchase of memberships. A circuit or full-access membership will include aerobics and spin classes at no extra charge! The number is 732-8770.
---
Got a good piece of news, information or something that we can all brag about? If you do, e-mail Mike and let us tell everyone about it. Plus you can win cash. Every submission, whether we use it or not, will get your name in the Close Up grab bag. At the end of the month we will draw a name and someone will get $25 just for dropping us an e-mail. If you wish, we will be happy to donate your winnings to the organization of your choice.
You can contact Mike at mikefak@lincolndailynews.com.
[MIKE FAK]