Daniel Fulton, poultry, first award winner

David Fulton, wildlife production and management winner

Nick Cale, swine production, placement winner

Devin Pegram, small animal production and care winner

Kristine Apel, specialty animal production winner

Cameron Harnacke, swine production, second

Sam Buse, agricultural services, second

Nathan Applegate, Home and community development, third
---
Carroll Catholic School honor students
(Click on pictures for larger images.)
Isaiah Wahab,
first grade

Son of Dr. and Mrs. Amir Wahab, Lincoln

Aleck Bailey,
fourth grade

Son of Robert and Jennifer Bailey, Lincoln


Hayden Sanborn,
fifth grade

Son of Michael and Alexandra Sanborn, Lincoln


Kristen Lahr,
sixth grade

Daughter of Laurie Lahr, Lincoln
Daughter of Mark Lahr, Pleasant Plains
---

Justin Knauer has been named January Senior-of-the-Month at Mount Pulaski High School. Justin is the son of Kevin and Monica Knauer of Mount Pulaski.
During high school, Justin has been a high honor roll student and has been active in a variety of extracurricular activities. He has participated in student council, yearbook, Science Olympiad and Spanish Club. He was elected to National Honor Society and was selected to participate in Worldwide Youth in Science and Engineering activities. He is a three-sport athlete, participating in baseball, basketball and golf.
Justin has earned his Eagle Scout rank through Boy Scouts and is a member of St. Patrick/St. Thomas Youth Group.
He plans to attend the University of Illinois to major in civil engineering.
The Senior-of-the-Month program is co-sponsored by Mount Pulaski Pharmacy and Johnson's Food Center. Monthly winners receive $100 savings bonds and are eligible to compete for the $1000 Senior-of-the-Year award.
---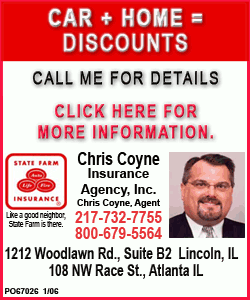 Illini Central announces December Student of the Month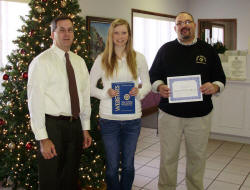 Pictured from left: Bob Werner, executive vice president of 1st State Bank; Kelsey Laugel; Ed Jodlowski, principal

The 1st State Bank of Mason City and Illini Central High School are pleased to present Kelsey Laugel with the December Student of the Month Award. For demonstrating outstanding character, Kelsey receives a $50 savings bond from 1st State Bank and a reference work appropriate to her course of study from the Illini Central High School faculty.

Kelsey is the daughter of Tim and Diane Laugel. Her classes this year are Human Physiology, Spanish 4, Accounting, Physics, AP English and Physical Education.

In addition, Kelsey keeps busy with a number of extracurricular activities: the volleyball team, Science Olympiad, Science Club, Link Crew, PawPrint, and Worldwide Youth in Science and Engineering. She is also a part of Student Service.

Outside of school, Kelsey is an athlete with Illini Elite Volleyball Club.

Kelsey plans to attend and play volleyball at Illinois Wesleyan University, where she will possibly major in political science and English, while taking pre-law classes.
---

The United Way of Logan County will have its monthly meeting on Monday, Feb. 8, at 5:30 p.m. in the board room in the Farm Bureau building. Board members, please remember that if you cannot attend, you need to call 735-4499 prior to the meeting. If there is anyone in the community who wishes to be considered as a potential board member, you may call Lois at the above number. The executive board will meet at 4:30 p.m.
---

Reminders:
Pancake and sausage meal at Zion Lutheran School, 1600 Woodlawn Road, is this Saturday, Feb. 6, from 7 a.m. to 1 p.m. It's an all-you-can-eat pancake and sausage meal with carryout available. You can buy bulk sausage and bid on numerous items in their silent auction.
Postville Courthouse, 914 Fifth St. in Lincoln, will host a celebration of Abe Lincoln's birthday this Saturday from noon to 4 pm. The public is invited to visit and enjoy a tour, along with …
The VFW at 915 Fifth St. in Lincoln will have a chicken and noodle dinner from 3:30 to 7 p.m. on Saturday.
Mount Pulaski VFW is having their annual all-you-can-eat pancakes and whole-hog sausage breakfast on Super Bowl Sunday, Feb. 7. The event is from 7 a.m. to 1 p.m. at the VFW Hall in Mount Pulaski.
---
Got a good piece of news, information or something that we can all brag about? If you do, e-mail Mike and let us tell everyone about it. Plus you can win cash. Every submission, whether we use it or not, will get your name in the Close Up grab bag. At the end of the month we will draw a name and someone will get $25 just for dropping us an e-mail. If you wish, we will be happy to donate your winnings to the organization of your choice.
You can contact Mike at mikefak@lincolndailynews.com.
[MIKE FAK]