YMCA notes

Send a link to a friend

[February 06, 2010] YYMCA Archery is a great way to get local children excited about this sport. Participants will learn about proper technique and safety of compound bows by shooting at targets and various animal decoys. The final week, participants will be taken to a wooded area for a realistic 3-D shoot, where they will receive awards. The program is for children in third to 12th grade and will meet on Saturday mornings. Registration deadline is Feb. 25, so don't delay.

For information on Lincoln Area YMCA programs and events, visit the downtown office, 604 Broadway St., Suite 1; call 735-3915; or visit www.lincolnymca.org. The YMCA Activity Center is at the former Odd Fellows gymnasium on Wyatt Avenue.
March Madness will soon be upon us. Join the YMCA as they celebrate the sport of basketball. The Y Sports Party 2010 will be on Friday, Feb. 19, from 7 to 9 p.m. at the Y Activity Center. Bring your first- to fifth-grade kids for a night of basketball fun, pizza and more. Participants are invited to dress as their favorite basketball player or team for the night of coed games. Hurry in as registration ends Feb. 16.

Red and white … and black. Let's fight, fight, fight! YMCA Cheerleading is for children from age 4 to fifth grade who want to learn cheers as well as work on cheer techniques and form. This is an ongoing program that meets Monday nights. Participants will perform at many community events, including basketball games and more. Register today to join the fun!

As the weather warms up, the Y pulls out the paint -- Paintball, that is. This program is for kids 9-15 years old who want to act out various action scenarios such as Mission Impossible, Capture the Flag and 007. The YMCA supplies the equipment, so there is no additional cost to parents. Paintball meets on Saturdays beginning March 12. Don't miss out on this exciting program. Register today.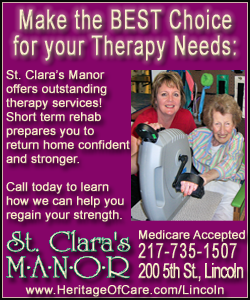 YMCA Spring Soccer registration started Feb. 1. This soccer program will teach kids from age 3 1/2 to 11 years old the fundamentals and techniques of soccer. Participants will practice once a week and have games on Saturday mornings. Registration ends March 18, so register now to avoid any late fees. There is a registration discount if you donate a 12-pack of power drinks or soda at the time of registration.
Registration for YMCA Spring Travel Soccer has also begun. This coed travel team is for kids 12-14 years old who are looking to practice twice a week and travel on Saturday mornings. Games are played at the Springfield YMCA's soccer fields on the U of I Springfield campus. Registration ends March 18. Register now to avoid any late fees.
[Text from file received from Lincoln Area YMCA]