In the 6 and under division, Austin O'Donoghue and Tony Gandolfi brought home first-place trophies, Cade Tanner took second, and Kia Carvalho got fourth.

In the 7- and 8-year-old division, Collin Cogdill and Trevor Bree took second, Tyler Werth and Roux Starr took fourth.

In the 9- and 10-year-old division, Jarrett Poole got a first-place trophy and Michael O'Donoghue took fourth.

The team will travel to Chatham next Sunday to wrestle in the Chatham Kids Titan Clash.
---

The Humane Society of Logan County's annual pancake and sausage breakfast will be on Saturday, Feb. 13, at Friendship Manor from 7 a.m. to noon. Tickets are $6 for adults, $3 for children 4-10, and free for 3 and under. If you would like to sell tickets or buy tickets, please call Marsha Brown, 217-735-2108. Treat your sweetheart for the perfect beginning to the Valentine's Day weekend.
---

Kudos to Eric Graue with Merrill Lynch and Andy Fitzpatrick with Pacesetter Financial Group.
Fitzpatrick successfully completed and passed the Series 65 Exam. He is now registered as an "investment advisor" for Pacesetter Financial Group.
Eric Graue now is a "Certified Financial Planner" professional. The CFP mark of distinction is one of the most recognized and respected credentials in the financial services profession. To earn a CFP certification, Eric had to meet the rigorous standards of education, examination, experience and ethics set by the Certified Financial Planner Board of Standards. Earning this distinction demonstrates his ability consider a wide array of factors (investments, insurance, employee benefits, etc.) to help his clients develop, implement and track progress toward a plan to meet their financial goals.
---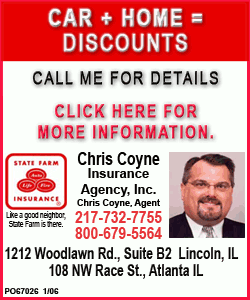 Illini Central announces January Student of the Month

Principal Ed Jodlowski; Tucker Biesenthal; Bob Werner, executive vice president of 1st State Bank of Mason City
Illini Central High School and the 1st State Bank of Mason City are pleased to present Tucker Biesenthal with the January Student of the Month Award. For demonstrating outstanding character, Tucker receives a $50 savings bond from 1st State Bank and a reference work appropriate to his course of study from the Illini Central High School faculty.
Tucker is the son of Michelle and Scott Whitehead.
Tucker's classes this year are Creative Writing, Spanish 4, Contemporary History, AP Chemistry, Pre-Calculus/Trigonometry, and AP Literature and Composition.
In addition, he keeps busy with a number of extracurricular activities: Spanish Club, PawPrint, National Honor Society, Scholastic Bowl, Drama Club, Science Club, Science Olympiad, Envirothon, Student Council, Link Crew, Worldwide Youth Science and Engineering, and competition sponsored by the Illinois Council of Teachers of Mathematics.
Outside of school, he is a part of the First Christian Church youth group.
Tucker plans to attend Purdue or Southern Illinois University at Edwardsville, where he will study to become a pharmacist.
---
Got a good piece of news, information or something that we can all brag about? If you do, e-mail Mike and let us tell everyone about it. Plus you can win cash. Every submission, whether we use it or not, will get your name in the Close Up grab bag. At the end of the month we will draw a name and someone will get $25 just for dropping us an e-mail. If you wish, we will be happy to donate your winnings to the organization of your choice.
You can contact Mike at mikefak@lincolndailynews.com.
[MIKE FAK]