Park district notes
From Roy Logan, program coordinator

Send a link to a friend
[February 12, 2010] Yoshukai Karate Alliance will offer a Women's Self Defense class on Sunday, Feb. 28, from 2 to 3:30 p.m. in the Lincoln Park District Aerobics Room. Sensei Dan Dugan will be the instructor and several black belts from his class will be assisting. This important class will be for females of any age. Focus will be on escape techniques, how to subdue an attacker and identify potentially dangerous situations. Cost is only $10 for in-district residents and $12 for people living outside the district. Fifty percent of the registration fees will go to the Healthy Communities Partnership Domestic Abuse and Violence Task Force.
It won't be long until you hear "PLAY BALL." The park district is now accepting registrations for baseball and softball. Forms are available at the front office desk. Fees will be the same as last year. Call 732-8770 if you have questions.

Ballroom dance lessons are back! Join Mike and Julie Bieser in the Aerobics Room starting Sunday, March 7, at 2 p.m. This four-week class will have you learning the swing dance, cha-cha and the nightclub two-step. Along with learning a lot, you'll have great fun. This is an awesome way to beat the winter doldrums and get a little exercise as well. It is obvious that the Biesers enjoy teaching, and they'll have you "Dancing Like the Stars" in no time at all. The park district supplies the fun and instruction; you supply your dance partner. A minimum number of participants is required, so early registration is encouraged.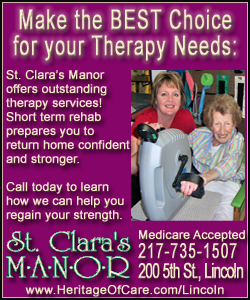 The 25th annual Community Health Fair will be Saturday, March 27, at the Lincoln Park District headquarters from 9 a.m. to 2 p.m. There will be many opportunities for you to get health screenings, visit over 60 booths and recycle a host of items. The Children's Health Fair, designed for fifth-graders, will be Friday, March 26, from 9 a.m. to noon. Home-schooled young people near this age bracket are invited to participate too. This is sponsored by Logan County Department of Public Health and the Lincoln Park District.
[Text from file received from Roy Logan, Lincoln Park District]