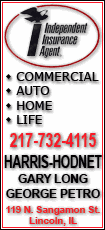 Jack Barrick sits behind a desk, looking at a file of pictures and papers. He hands a picture across his desk to show what the business looked like a decade ago, and more pictures going even further back.
These loose pictures weren't necessary to tell the business story, because in the office with a few desks, a few file cabinets and not much else, the walls are crowded with pictures in cases or frames. The photos, dating back to Feb. 15, 1935, tell a rich, ever-changing history of the business.
Working the three-generation family-owned business are Jack and his son John Barrick. The milestone for the business and why it has been successful is obvious on observing and talking to both men.
Founder Lewis Barrick was a hard worker, and both son and grandson have followed suit at their company by doing whatever is needed to make sure another day's essential obligations are fulfilled.
While Jack has been sidelined fighting a foot injury for the past few months, he sits at a desk, and son John, the third-generation operator of the company, runs in and out. John looks at scheduling, weather reports, confirms loads and then goes back into the warehouse to assist wherever needed.
The business of 20-plus employees is very busy even in these challenging economic times. On the shipment board inside the office are listed the loads planned for the next week. The schedule includes weekends.
On this day, an employee has called in sick and John has taken over the duties of helping recycle and clean pallets, a business he developed that is just one segment of the company's current business plan.
The business of trucking is all about being reliable. Companies requiring shipments in or shipments out need transport, not excuses why shipments aren't coming or going on time. The transfer business is demanding. It takes ownership and employees who understand this sense of obligation. Without that understanding, a trucking business doesn't last long. With that kind of dedication, a company can make it to their 75th anniversary.
The number 75 crops up more in the Barrick story. In 1935, Lewis A. Barrick took $75 of his savings and borrowed $75 more from his father-in-law, August John Feldman. With the money he bought a used 1931 Ford Model AA truck and began Barrick Transfer and Beverage Co.
Lewis began hauling meat and freight from the Gulf, Mobile and Ohio Railroad and the Illinois Central Railroad. They picked up the wares from the nearby terminal, supplying the end transport to stores and businesses, many of which were located along Route 66.
Lewis was, by his son Jack's own admission, a tough man to work for, but there is no question the man himself was a tough, hard-nosed worker. Jack recalled that his dad would do whatever he had to in order to make the business successful. He never asked of anyone more than he would and did do himself at work.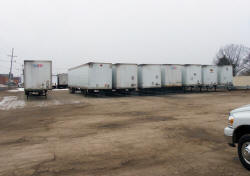 Jack remembers how his father picked up soda in Chicago and hauled it to area stores and taverns. Lewis and Route 66 were frequent companions in those early days and Jack remembers taking the trip with him as a young boy.
In the '30s, soda still came in glass bottles lined up in wooden crates. That meant in winter months, when the soda could freeze, Lewis would have to unload the truck at night, cart all the soda into the basement of the family home and then reload his truck the next morning to make the local deliveries.
Lewis Barrick was always looking for more work, and in 1938 he added beer distribution to his soda and freight operations. Over the next half-century, the Barricks would handle Stag, Budweiser, Hamm's, Old Style and Stroh's products.
During World War II, Lewis purchased a 1935 Dodge tractor and grain trailer from a seed dealer and turned the grain trailer into a standard trailer. This gave him an opportunity to haul larger loads.
Although a war was going on, Barrick and his now half-dozen employees were excused from the military draft. The company also had no problem getting gas and tires, which were being rationed at the time. This was because the company was contributing to the war effort. Barrick transported chickens and eggs from the Lincoln Armour hatchery to the Air Force base at Rantoul.
Jack says his mother, Mildred, also helped haul the chickens and eggs up Route 66 to Chicago as well as Rantoul. The novelty of a female driver at least meant Mildred didn't have to load and unload, while Lewis had to do those tasks himself.
Always the entrepreneur, Lewis Barrick also became an authorized North American Van Lines agent during the war years. He would haul a load of furniture up Route 66 to Chicago and then come back with a truck full of soda for local distribution. This meant there was no wasted motion, no empty loads as Lewis continued to seek more jobs and more efficient ways to continue the company's expansion.
Lewis Barrick was undaunted by any hauling task. He moved heavy equipment and machines into the factories springing up in the Lincoln area. Once when the Lehn & Fink plant, which made products such as Bayer aspirin and Lysol products, needed two 80,000-pound tanks hauled from the rail cars to the plant, Barrick devised a way to handle the challenge. Driving to St. Louis he purchased a 50-ton hydraulic jack. He then made a ramp out of railroad ties to unload the huge tanks from the railroad cars.
Barrick also handled delivering the printing presses and the huge 800-pound rolls of paper for the Lincoln paper back in those days.
Lewis Barrick was ahead of his time in understanding that Lincoln was the hub of the great Route 66 and other highways throughout the Midwest. He started working as a freight distributor with other companies from St. Louis to Chicago. The company would operate a terminal in Lincoln as well as St. Louis and Chicago as the business expanded to deliver goods throughout central Illinois.
In 1976, son Jack purchased the business from his father and changed the name to Barrick Distributing.
As the years went by, requirements for beer distributorships became increasingly difficult for a smaller distributor, and Jack sold off that business in 1994.
Jack says the adjustment of not hauling local beverage to all the area and stores was a difficult transition for his dad. Lewis loved people and although supposedly "retired" he still made many of the local deliveries. Lewis never did really retire and worked every day, including many weekends, right up to his death in 1996.
Jack recalls one day when he was bringing in a pair of 1995 Freightliners with sticker prices on them of $150,000 each. Both Jack and son John recalled Lewis was amazed at how costs of buying a truck had escalated since the early days and that first $150 truck. John and Jack both said with smiles that although the patriarch of the business wasn't thrilled with the price of the rigs, he hung around the office that night until they came in so he could inspect what cost so much.
John took over the business in 2004, and like his father and grandfather before him, he is a hands-on owner.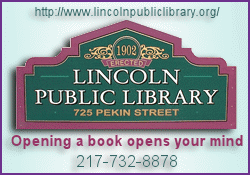 John mentioned during a tour of the plant that when he started working at the company as a youngster, an employee asked why he was driving an older rig rather than one of the newer ones. John said the employee tractors were assigned by seniority, and he didn't have the seniority yet to drive one of the newer rigs.
While walking the facility, John also made a telling statement that shows the lessons learned from grandfather and father about being a people-oriented owner. "We have really great employees," he said. "A company like ours wouldn't last 75 days in this business, let alone 75 years, without the people we have who work here."
Now in its 75th year, Barrick Enterprises has once again redefined its job. They now are haulers for Saint Gobain Containers in Lincoln, Diageo Distributing in Plainfield, Nabisco Foods in Chicago and Michigan City, Ind., Pepsi Cola Bottling in Munster, Ind., and PacMoore Products in Hammond, Ind.
The hauling for the Saint Gobain plant has become a huge undertaking. Barrick has load after load of Smirnoff Ice bottles being picked up for delivery to a center in Peoria. The number of bottles is staggering. With 20 pallets of bottles per truck, the company hauls millions of bottles out of the factory every month.
Still that wasn't enough work for young John, and he saw the opportunity to start a pallet cleaning and recycling business to meet the demands for hauling glass bottles and other products that carry stringent health codes.
Now an old section of the warehouse is busy with men cleaning pallets, sorting the cardboard sleeves that got between layers of bottles and getting another load of pallets prepared to be used again.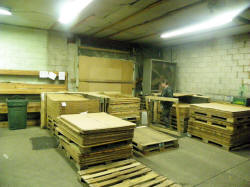 Besides the pallet recycling business, John has also added a fleet of dump trucks and a pavement seal coating business to make sure every day at Barrick Enterprises is a busy one.
Jack said he is certain grandfather Lewis would be very proud of how his grandson is managing the business and keeping it going in these uncertain times.
Congratulations to Barrick Enterprises on 75 years in business.
[By MIKE FAK]