Lincoln Youth Wrestling, Humane Society, C-EL Mathcounts, Ashley Meyrick, spring soccer and ballroom dancing in the Close Up
By Mike Fak
[February 16, 2010] The Lincoln Youth Wrestling Team traveled to Chatham on Sunday to compete in the Chatham Kids Titan Clash wrestling tournament. The results were as follows:
6 and under division: Austin O'Donoghue took first, Tony Gandolfi second and Kia Carvalho fourth.

7- and 8-year-olds: Cade Tanner, Collin Cogdill and Nolan Yates took third; Tyler Werth, Trevor Bree and Roux Starr all came in fourth.

9- and 10-year-olds: Jarrett Poole took first, Austin Dennison and Michael O'Donoghue fourth.
---

The Humane Society of Logan County had its annual pancake and sausage breakfast on Saturday, Feb. 13, at Friendship Manor. What a great partner HSLC has in Friendship Manor. The room was beautifully decorated and the staff was so helpful. According to preliminary numbers, HSLC netted close to $1,500 on the breakfast. Bake sale and merchandise sales were $400. Donation box yielded $130. Special thanks to all the volunteers who planned the event, especially Lyle and Cherrilyn Johnson and Marsha Brown, and to all those who gave up their Saturday to work. Without them HSLC would not have been able to have a $2,000 day.
---

The HSLC will have its annual rummage sale on Saturday, March 13, at the Lincoln Woman's Club building from 7 a.m. until noon. As you start to clean out closets, garages and under beds this winter, remember that all those unwanted items could be someone else's treasure. SAVE THEM FOR HSLC. Drop-off will be Friday, March 12, from 4 to 8 p.m.
---

The Chester-East Lincoln Mathcounts team took first place at the regional tournament on Saturday at Millikin University with students from six other schools. C-EL edged out Quincy for first place by three-fourths of a point. Kevin Barker was third in the written round and fourth in the oral competition. The team will travel to Matteson for the state tournament on March 6.
---

Ashley Meyrick, a 2008 graduate of Lincoln Community High School, made the Dean's Honor List at Illinois Central College. She was also inducted into Phi Theta Kappa, an international honor society, and is a member of the ICC women's volleyball national championship team, which has been named the 2009-2010 Academic Team of the Year. Ashley will receive her degree in May and plans on attending SIUE next semester.
---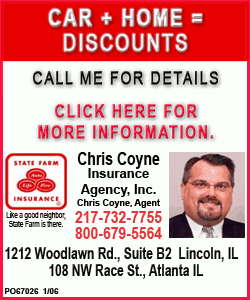 YMCA Spring Soccer registrations will be accepted now through March 18. This program is designed to introduce kids age 3 1/2 to 12 years old to soccer fundamentals and techniques. Participants will practice once a week. Games will be played on Saturday mornings. Register before March 18 to avoid late fees.
---

Ballroom dance lessons are back at the Lincoln Park District. Join Mike and Julie Bieser in the Aerobics Room starting Sunday, March 7, at 2 p.m. This four-week class will have you learning the swing dance, cha-cha and the nightclub two-step. Along with learning a lot, you'll have great fun. This is an awesome way to beat the winter doldrums and get a little exercise as well. It is obvious that the Biesers enjoy teaching, and they'll have you "Dancing Like the Stars" in no time at all. The park district supplies the fun and instruction; you supply your dance partner. A minimum number of participants is required, so early registration is encouraged. Call the park district at 732-8770.
---
Got a good piece of news, information or something that we can all brag about? If you do, e-mail Mike and let us tell everyone about it. Plus you can win cash. Every submission, whether we use it or not, will get your name in the Close Up grab bag. At the end of the month we will draw a name and someone will get $25 just for dropping us an e-mail. If you wish, we will be happy to donate your winnings to the organization of your choice.
You can contact Mike at mikefak@lincolndailynews.com.
[MIKE FAK]