Today's highlight in history:
On Feb. 17, 1897, the forerunner of the National PTA, the National Congress of Mothers, convened its first meeting, in Washington.
On this date:
In 1801, the U.S. House of Representatives broke an electoral tie between Thomas Jefferson and Aaron Burr, electing Jefferson president; Burr became vice president.
In 1809, the Ohio legislature voted to establish Miami University in present-day Oxford. (The school opened in 1824.)
In 1864, during the Civil War, the Union ship USS Housatonic was rammed and sunk in Charleston Harbor, S.C., by the Confederate hand-cranked submarine HL Hunley, which also sank.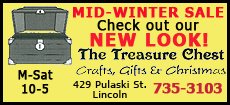 In 1865, Columbia, S.C., burned as the Confederates evacuated and Union forces moved in. (It's not clear which side set the blaze.)
In 1904, the original two-act version of Giacomo Puccini's opera "Madama Butterfly" was poorly received at its premiere at La Scala in Milan, Italy.
In 1909, Chiricahua (chi-rih-KAH'-wuh) Apache leader Geronimo (also known as Goyathlay, "One Who Yawns") died at Fort Sill, Okla., at age 79.
In 1947, the Voice of America began broadcasting to the Soviet Union.
In 1959, the United States launched Vanguard 2, a satellite which carried meteorological equipment on board.
In 1964, the Supreme Court, in Wesberry v. Sanders, ruled that congressional districts within each state had to be roughly equal in population.
In 1972, President Richard M. Nixon departed on his historic trip to China.
Ten years ago: A House panel said in a report that the program to inoculate all 2.4 million American military personnel against anthrax was based on "a paucity of science" and should be suspended; the Pentagon defended the program and vowed to continue the inoculations.
Five years ago: President George W. Bush named John Negroponte (neh-groh-PAHN'-tee), the U.S. ambassador to Iraq, as the government's first national intelligence director. Iraq's electoral commission certified the results of the Jan. 30 elections and allocated 140 of 275 National Assembly seats to the United Iraqi Alliance, giving the Shiite-dominated party a majority in the new parliament. Actor Dan O'Herlihy died in Malibu, Calif., at age 85.