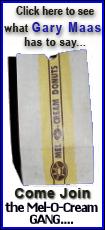 "This year it was a bit more tough," Cowell said of selecting the female semifinalists.
Observant viewers may have noticed that curly haired shoe salesman Chris Golightly, 25, of Los Angeles was among the semifinalists on stage at the end of Wednesday's episode, but it was Urban who was among the 12 dancing male semifinalists. A statement from Fox said Urban replaced Golightly because Golightly was "ineligible to continue in the competition." No further explanation was provided.
It's not the first semifinalist switcheroo on "Idol." Last season, Joanna Pacitti was shown advancing to the top 36 after "Hollywood Week" but was later replaced by Felicia Barton. Pacitti released an album in 2006 and had ties to 19 Entertainment, which produces "Idol" with FremantleMedia North America. She was also deemed "ineligible to continue" in a Fox press release.
The other male semifinalists revealed Wednesday were Andrew Garcia, 24, Moreno Valley, Calif.; Tyler Grady, 20, Nazareth, Pa.; Alex Lambert, 19, North Richland Hills, Texas; Joe Munoz, 20, Huntington Park, Calif.; John Park, 21, Evanston, Ill.; and Jermaine Sellers, 27, Joliet, Ill.
Janell Wheeler, a bubbly 24-year-old wine sales representative from Tampa, Fla., was the first crooner crowned with a spot Wednesday. Wheeler impressed the judges during her first solo "Hollywood Week" performance with an acoustic rendition of Estelle's "American Boy" but her group disappointed with Ne-Yo's "Closer" and she flubbed Taylor Swift's "Love Story."
"I just can't stop thinking about calling into work and saying I'm not coming in," Wheeler said.
The other female semifinalists were Crystal Bowersox, 24, Toledo, Ohio; Lacey Brown, 24, Amarillo, Texas; Michelle Delamor, 22, Miami; Siobhan Magnus, 20, Marstons Mills, Mass.; Paige Miles, 24, Houston, Texas; Ashley Rodriguez, 22, Chelsea, Mass.; Lilly Scott, 20, Denver; Katie Stevens, 17, Middlebury, Conn.; and Haeley Vaughn, 16, Fort Collins, Colo.