Stephani Otte, Chestnut EMS, Humane Society, Maple Ridge Care Centre, Hudson's Talk of the Town and YMCA archery in Close Up
By Mike Fak
[February 19, 2010] Stephani Otte, formerly of Lincoln, was recently published in the Journal of Neuroscience Feb. 10 issue. Otte is finishing her Ph.D. in neuroscience research at the Salk Institute for Biological Studies, University of California at San Diego, in La Jolla, Calif. Her work was supported by a National Institutes of Health grant, the Crick-Jacobs Center for Theoretical and Computational Biology, and the Kavli Institute for Brain and Mind. Her publication is on "Cell type-specific control of neuronal responsiveness." She was chosen to present her data at neuroscience conferences in Utah and New York in February and March. She also presented data at a neuroscience conference in Chicago last year.
Steph graduated from LCHS in 1997 and the U of I in 2001. Her parents are Don and Joni Otte of rural Lincoln.
---

Chestnut EMS is having a fundraiser on Sunday, Feb. 28, from 4 to 7 p.m. Location: Chestnut Firehouse. Cost: Adults $5, children $3. Serving: Chili and beef vegetable soup, dessert, coffee, tea or lemonade. All proceeds are going toward the purchase of a new MRx monitor-defibrillator.
---

The Humane Society of Logan County encourages pet owners to spay and neuter their animals. Every year they celebrate "Spay Day" on the last Tuesday of February. In support of their endeavors, Maple Ridge Care Centre has invited the Humane Society to visit the facility on Spay Day. Homeless pets will be brought in to visit with the residents at 10:15 a.m. on Tuesday, Feb. 23. Community members are invited to come and see a few of the animals that are available for adoption. Maple Ridge Care Centre is located at 2202 N. Kickapoo St. in Lincoln.
---

Hudson's Talk of the Town, 115 Gov. Oglesby in Elkhart, will have a food drive every Sunday throughout Lent to benefit the Lincoln/Logan County Food Pantry. Just bring a nonperishable food item and enjoy food and drink specials during NASCAR races and college basketball. They will also have a 50-50 drawing -– guess the total pounds of food collected. The winner will be announced on Sunday, March 29, with the balance of the proceeds going to the food pantry.
On Sunday, Feb. 21, from 4-6 p.m. they will feature free hot wings with a nonperishable food donation. Check their calendar at www.elkhartillinois.us or call 947-2770 for opening times.
Their goal is to collect 200 pounds of food for the food pantry, which is always in need of donations. There is a special need at this time for canned soups, canned vegetables and canned fruit.
---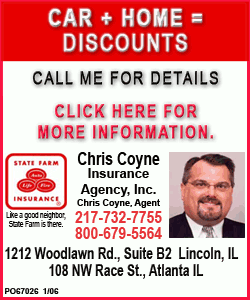 Hunting season may soon be over, but now is a great time to introduce your kids to YMCA Archery. This program is designed to help participants with their individual skills, techniques and abilities. Kids third grade and older will meet on Saturday mornings as they learn proper use of a compound bow by shooting targets and various decoys. Registrations are being accepted through Feb. 25. Call 735-3915 or visit www.lincolnymca.org.
---
Got a good piece of news, information or something that we can all brag about? If you do, e-mail Mike and let us tell everyone about it. Plus you can win cash. Every submission, whether we use it or not, will get your name in the Close Up grab bag. At the end of the month we will draw a name and someone will get $25 just for dropping us an e-mail. If you wish, we will be happy to donate your winnings to the organization of your choice.
You can contact Mike at mikefak@lincolndailynews.com.
[MIKE FAK]