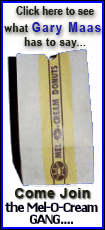 Suzanne Hinn filed the papers in Orange County Superior Court on Feb. 1, citing irreconcilable differences, after more than 30 years of marriage. The papers note the two separated on Jan. 26 and that Hinn has been living in Dana Point, a wealthy coastal community in southern Orange County.
"Pastor Benny Hinn and his immediate family were shocked and saddened to learn of this news without any previous notice," Benny Hinn Ministries said Thursday in a statement. "Although Pastor Hinn has faithfully endeavored to bring healing to their relationship, those efforts failed and were met with the petition for divorce that was filed without notice."
Hinn is one of the best known advocates of the prosperity gospel, which teaches that Christians who are right with God will be rewarded with wealth and health in this lifetime.
His TV broadcasts on the Trinity Broadcast Network, a Pentecostal broadcasting juggernaut, and other TV networks are seen by millions of people around the world nearly every day. He travels the globe in his ministry's plane, named Dove One, holding events he calls "Miracle Crusades" that include spiritual healings.
Hinn has never fully publicly disclosed how he spends the money he raises, but his vast ministry is believed to be a multimillion-dollar operation. There was no mention of finances in the court filing, which listed three recent Southern California addresses for the family.
Over the years, Hinn has been the target of intense criticism from fellow Christians and watchdog groups who call his teachings false and accuse him of raising money only to enrich himself.
He is one of six televangelists under investigation by Sen. Charles Grassley, the Iowa Republican on the Senate Banking Committee, over whether he complied with IRS rules for nonprofits. Hinn has said on his Web site that external auditors ensure his compliance with IRS regulations and that in 2008, 88 percent of the money he collected was spent on ministry.
Benny Hinn Ministries is based in Grapevine, Texas, and operates a church and television studio in Aliso Viejo in California's Orange County, according to its Web site.