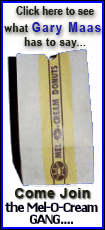 "The Twelfth Insight" will be Redfield's first "Celestine" novel since 1999. The author says it "describes a new wave of religious tolerance and integrity."
The author made the announcement in a statement released Thursday by Grand Central Publishing. The division of Hachette Book Group tentatively plans to release "Twelfth Insight" in early 2011.
In 1992, Redfield self-published "The Celestine Prophecy." It became so popular that Warner Books -- now Grand Central -- acquired it. Other "Celestine" books include "The Tenth Insight" and "The Secret of Shambhala."