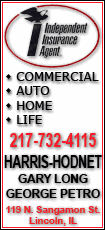 Typically people living here will make a long drive to Havana, Starved Rock, Grafton or a number of other far-off river places in order to view eagles during this season. But a bald eagle has surprised Logan County residents with a personal visit this week. The eagle has been observed just north of Lincoln several days this week.

The eagle's height of about 3 feet and its tucked-in 3- to 4-foot wings create such a massive bulk that when sitting on the now barren, snowy fields, it stands out. This eagle's distinctive white head indicates that it would be at least 4 or 5 years old.

The American bald eagle has been our national emblem since June 20, 1782.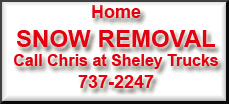 Eagles nearly fell into extinction in the 1970s. At that time the eagle population reached an alarming all-time low, and it was estimated that there were only 500 mating pairs. Their demise was believed to be due to extensive use of an agricultural chemical, DDT. They and other wildlife are also affected by chemicals such as DDE, PCBs and lead shot, in addition to facing other challenges created by the urbanization of former natural habitats.
They were placed on the federal list of endangered and threatened wildlife and plants. While on the endangered list, measures were taken to protect them, and successful breeding in captivity and reintroduction operations also boosted their numbers.
They were removed from the endangered lists in 2007. Yet even now, according to some statistics, there are only 15,000 bald eagles in the nation. So, they are still carefully watched and protected today. Officials are interested in the well-being of even just one.
Jason Bak from the U.S. Fish and Wildlife Service actually drove here from Springfield on Thursday just to be sure this bird was not looking sick or injured and in need of rescue.
He said it is likely that this is an eagle migrating north. Eagles will eat carrion if found on a journey and will stop and stay until the food is gone, as they may not find anything to eat for a while.
You could probably compare migration to one of those progressive dinner parties or vacation traveling; you plan your stops where there's food, and you eat your way somewhere.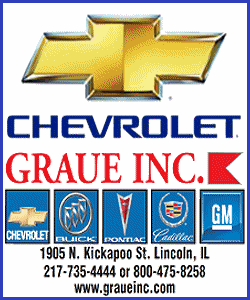 While to the naked eye it is difficult to tell how this eagle is doing, a zoom-in of the pictures and general observations indicated that this bird is quite all right, with no injury, and healthy. It has the classic, shrewd bright eyes -- "eagle eye" -- and stands astute and perky. The eagle was also observed to fly well.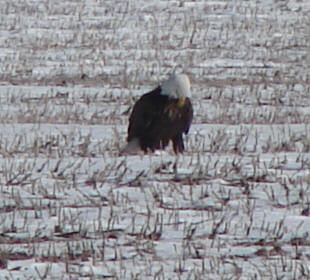 In this picture the eagle is grooming those proud breast feathers -- a good sign.
There is a food source nearby, and Bak declared that he thought this is an eagle that simply stopped to eat while on migration. It will likely move on when the food is gone.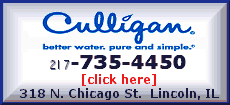 Other eagle facts:
To see an eagle fly is amazing thing. With its giant wings, its lift ratio allows it to fly with little flapping. An eagle soars on thermals, updrafts that make flight effortless, and it can average 30 mph.

Some eagles migrate, some don't.

A female's wingspan, at 7 feet, is 1 foot longer than the male's.

Eagles weigh 10-14 pounds and live 20-30 years.

An eagle's diet is mostly fish, carrion, smaller birds and rodents.
[By JAN YOUNGQUIST]
This Web site is full of useful information for teaching in the classroom:
http://www.baldeagleinfo.com/eagle/eagle9.html