Ed and Rhonda Malkowski are the owners, and it takes only a few minutes of conversation to realize they have a passion for books: a passion they have decided to turn into a business.

This past November as Ed explained how the store would be laid out, he said with a smile, "This is our 401(k), right here."

The Malkowskis have been married 10 years, and although Ed doesn't like to say their new business came about by accident, circumstances did lend a hand in their endeavor.

Ed was a software developer with a Champaign bank, and when it merged with another bank, his job was outsourced.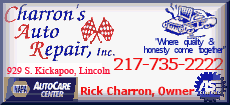 Ed was looking at taking a position with a company in Springfield, and since he was a former Lincoln resident (LCHS Class of '79), the couple thought of moving to Lincoln and Ed commuting to work in the capital city.
Ed said that on a visit to Walmart he asked about bookstores and coffee shops in town, and the clerk said she didn't know of any.
The wheels started grinding, and Ed said he saw himself being happy in a bookstore.
Two days later over lunch he asked Rhonda what she thought of opening a bookstore.
Rhonda, who has been a book dealer on the Internet for a decade, explained that having a bookstore was her dream. "I told him, 'OK, are you serious? Don't kid me.'"
Since Ed is an accomplished author and historian of ancient cultures in his own right (his books are available at the store) and with Rhonda a collector and seller of books for years, the two taking on the task of opening a bookstore was a natural.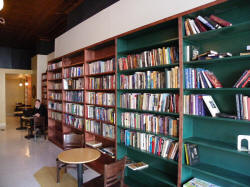 Even the name of the business fits the couple. Ed explained that in Greek lore, an owl was a mythical creature that denoted wisdom. Books, he said, can give knowledge and wisdom that can fill a void that schools can't about history, since names and dates are stressed due to time constraints, without the complete story being told.
Ed enjoys delving into and writing about ancient history, and his writing not only gives knowledge to himself but his readers as well.
Rhonda is a "night owl" and reads voraciously, as does Ed, having that same passion for books. Thus the name Owl's Roost was as comfortable to the couple as their decision to open their business in Lincoln.
Once Ed and Rhonda had decided to chase their dream, they only needed one last important element: a location.
A walk around downtown brought them to the empty office building of Judge Tom Funk, who closed the law office after he was appointed judge.
The building had been for sale but with no takers or lookers. Funk had taken it off the market. When Ed and Rhonda contacted him, a deal was made and the Malkowskis had a building: a building that they eventually gutted to turn into a bookstore, coffeehouse and light lunch establishment.
The original plans didn't include an eatery, but when the couple found out a kitchen was required for the milk products they would serve with their coffees and espressos, they decided to turn the roadblock into another opportunity and installed a complete kitchen in their shop.
Now, besides books and coffee drinks, the business will offer light meal choices in a small dining area as well as for takeout.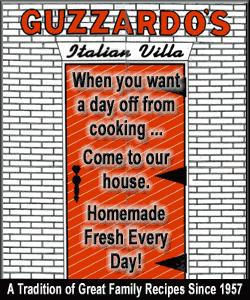 In the initial menu, wraps, salads, club sandwiches, cinnamon rolls and specialties of the day are available, but the menu will continue to expand as the couple gets an opportunity to find out what people are looking for when they visit their business.
The store has shelves of old books and new books for readers to look through, but that is only a small fraction of the couple's complete stock.
Rhonda says their current inventory lists 18,000 titles, and a computer tracking where a specific book is stored will be available to help readers find a specific title, especially if it is still in storage due to space.
The books will be reasonably priced from a few dollars on up for used editions. The business also will offer special collectors' editions that will carry a more serious price tag.
To make the store more comfortable for visitors, if a coffee or espresso isn't your taste, the business will also offer wines by the glass. Again, like the books, there will be inexpensive to more expensive vintages available, depending on a patron's palate.
The work to get the shop open has been arduous and has taken more time than originally hoped, but the Malkowskis now can see the end in sight and have opened for business as they continue to place volumes of books on their shelves.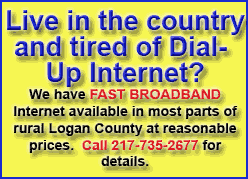 They hope Lincolnites will find the time to stop in, enjoy a coffee or wine, and browse through their books. In the event you enjoy the written word, you will find the owners ready to talk about their passion and now their business for as long as you want in a comfortable, relaxed atmosphere.
Currently their hours are 9 a.m. till 9 p.m., but beginning next week the hours will expand to 7 a.m. till 10 p.m. Monday-Saturday and 9 a.m. till 5 p.m. on Sundays.
Ed and Rhonda invite everyone to visit their business, have an espresso, some food or a glass of wine, and chat and linger for a while. And if you love books, you will have found the perfect place to spend time on a regular basis.
[By MIKE FAK]