YMCA notes

Send a link to a friend

[February 20, 2010] With many families still facing tough economic times, let the YMCA help your kids have fun. The Y offers financial aid for all YMCA programs to anyone who qualifies. Stop by the office to pick up your financial aid form today.

For information on Lincoln Area YMCA programs and events, visit the downtown office, 604 Broadway St., Suite 1; call 735-3915; or visit www.lincolnymca.org.

The YMCA Activity Center is at the former Odd Fellows gymnasium on Wyatt Avenue.
Gift certificates are available for all YMCA programs. These make great gifts from aunts, uncles and grandparents. Stop in today and let the Y help you with a choice of programs.

Set! Bump! Spike! YMCA Volleyball Clinic introduces kids in first to sixth grade to the sport of volleyball and teaches the skills necessary to play. Participants will meet on Tuesday evenings, with first to third grade meeting at 5:30 and fourth to sixth grade meeting at 6:30. Registration ends March 16, so hurry in today.

What do springtime and the Y have in common? "Y" it's YMCA Spring Soccer, of course! Registration will be accepted through March 18. This exciting program is designed to introduce kids age 3 1/2 to 12 years old to soccer fundamentals and techniques. Participants will practice once weekly. Games will be on Saturday mornings. Fees increase after March 18.

YMCA Spring Travel Soccer is for kids 12-14 years old who are looking to play in a more competitive manner. This league will meet on Saturday mornings at the Springfield YMCA's soccer fields, located on the U of I at Springfield campus. Teams will play against other YMCAs. The program will encourage fair yet competitive games. Registrations will be accepted through March 18.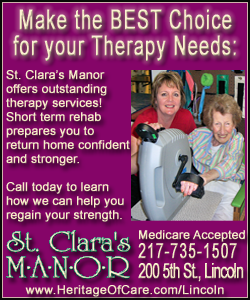 YMCA Archery is designed to help participants with their individual skills, techniques and abilities as they learn the proper use of compound bows. Participants will be allowed to shoot at targets and various decoys, including deer and bear. This program is for kids third grade and older and will meet on Saturday mornings. Registrations are being accepted through Feb. 25.
The YMCA offers gym rentals to those interested in having a birthday party, quick game of basketball, a meeting place or most anything. Call the Y office today for prices and availability.
[Text from file received from Lincoln Area YMCA]