Quilters, Lincoln Youth Wrestling, Zion Lutheran, Lucky 6 winners and health fairs make the Close Up
By Mike Fak
[February 23, 2010] The Quilters at Heart Quilt Guild will have their monthly meeting at 7 p.m. Wednesday, Feb. 24, at Trinity Episcopal Church, 402 Pekin St. in Lincoln. For additional information, contact Stacie Wachtel 309-533-1122, 217-732-7029 or staciewachtel@yahoo.com.

The Lincoln Youth Wrestling team traveled to Peoria Heights on Sunday to compete in the Minuteman Revolution kids wrestling tournament. The results were as follows:

6 and under -- Austin O'Donoghue brought home his fifth first-place trophy of the year, and Tony Gandolfi got fourth place.

7- and 8-year-olds -- Collin Cogdill and Nolan Yates took fourth place.

9- and 10-year-old division -- Jarrett Poole took first place for the seventh time this season, Austin Dennison was third, and Michael O'Donoghue got fourth.

The team will compete in the Illinois Kids Wrestling Federation regional tournament Saturday at Prairie Central High School in Fairbury.
---
Zion Lutheran School in Lincoln hosted two speakers for a K-8 student assembly celebration of Black History Month. Ms. Margaret Peifer spoke with the students about Langston Hughes, famous author and Lincoln native. Several Zion students read selected poems written by Hughes. Mr. Henry Johnson presented information regarding the accomplishments and impact of various innovative African-Americans. The assembly was very interesting and informative as ZLS students learned about and celebrated the achievements of many important African-Americans in the history of our nation.
Pictured are Margaret Peifer and Henry Johnson.
---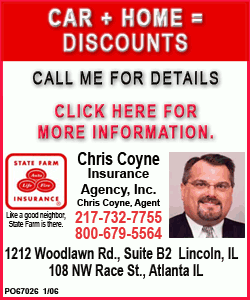 Lucky 6 winners and sellers for the final drawing, which was on Friday:
| | | |
| --- | --- | --- |
| Amount | Winner | Seller |
| $1,000 | Gerian Rahn | Carolyn Gober |
| $ 500 | Dave Purcell | Dave Purcell |
| $ 300 | Gary Freese | Pat Freese |
| $ 100 | John Owens | Sr. Mary Lou Owens |
| $ 100 | Margaret Blanford | Margaret Blanford |
| $ 100 | Carol Reed | Carol Reed |
The first drawing for the new Draw 4 Carroll will be in April. Tickets are now on sale.
---

Set the date on your calendar. The 25th annual Community Health Fair will be Saturday, March 27, at the Lincoln Park District headquarters from 9 a.m. to 2 p.m. There will be many opportunities for you to get health screenings, visit over 60 booths and recycle a host of items. The Children's Health Fair, designed for fifth-graders, will be Friday, March 26, from 9 a.m. to noon. Home-schooled young people near this age bracket are invited to participate too. The health fairs are sponsored by Logan County Department of Public Health and the Lincoln Park District.
---
Got a good piece of news, information or something that we can all brag about? If you do, e-mail Mike and let us tell everyone about it. Plus you can win cash. Every submission, whether we use it or not, will get your name in the Close Up grab bag. At the end of the month we will draw a name and someone will get $25 just for dropping us an e-mail. If you wish, we will be happy to donate your winnings to the organization of your choice.
You can contact Mike at mikefak@lincolndailynews.com.
[MIKE FAK]