How is that possible, you ask? It is possible quite simply because Illinois had to have this game. Had the Illini lost, and they have coughed up a few this season, they would have placed themselves firmly on the bubble. In fact, that bubble probably would've popped.

So yes, there were too many turnovers... 17 if you're scoring at home. And yes, the Illini did not shoot the ball well. Yes, they had some breakdowns and some mental errors along the way. Yes, Illinois shot only 37 percent from the field and only 24 percent from downtown, including a paltry 10 percent from distance in the second half. Heck, they may not have even looked good in pregame warmups.

BUT, they did what they had to do. They did what they came there to do. And that was to get a tough, nitty-gritty win on the road in the trenches of Big 10 play, and that's exactly what they delivered. There is a saying in the Great White North that the folks up here usually use when describing a similar less-than-pretty win during the hockey season. They'll say something like, "The boys really grinded it out last night." And nothing could be more apropos to describe Illinois' huge win at Michigan last night than that.

Demetri McCamey led the way for Illinois with 14 points, four assists and a career-high nine rebounds... talk about a guy coming into his own. The reappearing Mike Davis tallied 13 points and 12 boards, while Mike Tisdale delivered nine points and a solid 11-rebound performance. And D.J. Richardson chipped in eight points while doing a decent defensive job on the talented Manny Harris.

One thing Illinois did right was win the rebounding battle 50-35, and that may have been the difference in the outcome.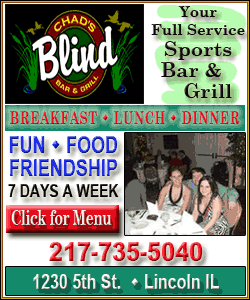 But I don't mind telling you that I was worried about this game going in. In fact, I had been worried about it for at least a couple of weeks. It didn't help when everyone seemed to already chalk it up as a win long before it was played. I've seen Sims and Harris, two of the best players in the Big 10, play before. I've witnessed them having monster games. I also figured that they'd be fighting for their lives in this contest.
Going in, I knew this was a single, with no return game in Champaign. I also knew that the Men in Orange had played a pretty decent game at Purdue and had just come up a little short. When you play those back-to-back games on the road, you don't usually have quality efforts in both games. In other words, sometimes you just have to find a way to put a big fat "W" on the left side of the ledger... or even a skinny "W." Illinois did that last night. Sweet!
Epilogue:
Illinois now has three games left in league play. They will host Minnesota at home on Saturday, then travel to Ohio State for a Tuesday night clash in Columbus. They will finish the conference slate by entertaining Wisconsin at home a week from Sunday.
The victory moved their overall record to 18-10 and their league mark to 10-5.
Something I'm not excited about is the stark possibility that the Illini will have to turn around and face Bucky Badger again in their first game at the Big 10 tournament. However, there's plenty to worry about until we get there. Maybe we'll grind out a few more wins. If that happens... that will be sweet!
[By JEFF MAYFIELD]
Respond to the writer at jeffmayfield@centralwired.com.