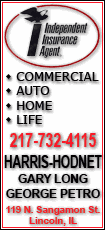 Community Action Head Start is a federally funded preschool program available to income-eligible 3- to 5-year-olds. Applications are being accepted now for center-based Head Start services in Logan County.

Head Start is designed to provide a variety of opportunities that help a child develop socially, intellectually, physically and emotionally in an age-appropriate manner. Head Start children receive nutritionally balanced meals, medical and dental examinations, as well as screenings for hearing, vision and speech. In addition, parents are assisted in their efforts to improve the quality of life for themselves and their children.

Head Start knows that parents are the first and most important teachers of their children and welcomes parents as partners in the Head Start preschool experience.

Parents are asked to bring the following items to complete an application:
Completed 2009 tax forms or W-2s

Copy of child's birth certificate or medical card

Proof of child support (if you receive it)

Proof of Social Security, TANF, cash assistance (if you receive it)
Community Action Partnership of Central Illinois serves the low-income and senior populations of six Illinois counties through a variety of programs. Early Head Start services for pregnant women, infants and toddlers are also available. For more information, visit www.capcil.org or call 217-732-2159.
[Text from file received from Community Action Partnership of Central Illinois]