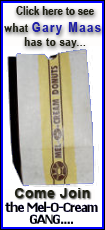 The storm was expected to dump around a foot of snow and bring high winds over a swath of the Northeast from Philadelphia to New York City to Albany, N.Y., creating a danger of toppled power lines.
The National Weather Service said Pennsylvania's Lehigh Valley, about 80 miles north Philadelphia, and northwestern New Jersey could get up to 18 inches.
The latest snow comes just as Philadelphia and New Jersey have finally cleaned up from a pair of blizzards more than two weeks ago that deposited more than 3 feet of snow.
For Albany, the storm comes only a day after one Wednesday left 2 feet of wet, heavy snow that clogged snowblowers and stranded pickup trucks trying to plow it out. About 150,000 customers lost power, hundreds of schools were closed and at least three traffic deaths were blamed on the storm.
By Thursday morning, 60,000 homes and businesses in eastern New York were still without power. The hardest-hit areas were in the Hudson Valley and the Catskills. Another 18,000 customers in Vermont still lacked power.
In the snow-weary Philadelphia region, where more than 70 inches has fallen already since December, most of it in three major storms, there was some denial about the possibility of another whopper.
Scott Bogina of Haddonfield, N.J., was gassing up his car across the Delaware River in Pennsauken, N.J., a little after 5 a.m. and held his hands and watched rain, not snow, land on his gloves.
"I don't see anything yet. I hope it stays like this. I like snow, but it's starting to be a little much," he said.
Not long after that, the precipitation turned to snow.
Officials, though, were respecting the forecast.