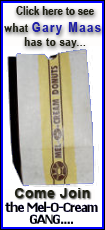 Today's highlight in history:
On Feb. 25, 1940, a hockey game was televised for the first time, by New York City station W2XBS, as the New York Rangers defeated the Montreal Canadiens, 6-2, at Madison Square Garden.
On this date:
In 1836, inventor Samuel Colt patented his revolver.
In 1901, United States Steel Corporation was incorporated by J.P. Morgan.
In 1913, the 16th Amendment to the Constitution, giving Congress the power to levy and collect income taxes, was declared in effect by Secretary of State Philander Chase Knox.
In 1919, Oregon became the first state to tax gasoline, at one cent per gallon.
In 1948, Communists seized power in Czechoslovakia.
In 1950, "Your Show of Shows," starring Sid Caesar, Imogene Coca, Carl Reiner and Howard Morris, debuted on NBC-TV.
In 1964, Cassius Clay (later Muhammad Ali) became world heavyweight boxing champion by defeating Sonny Liston in Miami Beach.
In 1986, President Ferdinand Marcos fled the Philippines after 20 years of rule in the wake of a tainted election; Corazon Aquino assumed the presidency.
In 1990, Nicaraguans went to the polls in an election that resulted in an upset victory for the alliance opposed to the ruling Sandinistas.
In 1991, during the Persian Gulf War, 28 Americans were killed when an Iraqi Scud missile hit a U.S. barracks in Dhahran, Saudi Arabia.
Ten years ago: A jury in Albany, N.Y. acquitted four white New York City police officers of all charges in the Feb. 1999 shooting death of unarmed African immigrant Amadou Diallo in the Bronx.
Five years ago: Municipal employee and church leader Dennis Rader was arrested for the BTK ("bind, torture, kill") serial slayings that had terrorized Wichita, Kan. (Rader later pleaded guilty and was sentenced to 10 life prison terms.) A suicide bombing killed four Israelis outside a Tel Aviv nightclub, shattering an informal truce. Amnesty International founder Peter Benenson died in Oxford, England, at age 83. Hall of Fame basketball coach John Chaney was suspended for the rest of the regular season by Temple for ordering rough play by one of his players during a game against Saint Joseph's. The Walt Disney Co. agreed to sell the Anaheim Mighty Ducks to billionaire Henry Samueli and his wife, Susan, for $75 million.