Logan Lanes, ATOD and D.A.R.E., Zonta, Culver's, Habitat, Lions Club, and Cumberland Presbyterian in Close Up
By Mike Fak
[February 26, 2010] There is free bowling at Logan Lanes on Sunday, Feb. 28, from noon to 3 p.m. The bowling event is open to anyone in Logan County. It is free bowling, shoe rental, hot dog, chips and soda. The day is sponsored by the Alcohol, Tobacco & Other Drugs Task Force and D.A.R.E. Once again, it is free for anyone.
---

The Zonta Club is sponsoring a blood drive on Monday, March 1, at the Lincoln Masonic Center, 2022 N. Kickapoo, from noon to 6 p.m. Join in this lifesaving event in support of the central Illinois blood supply. Central Illinois Community Blood Center is the blood provider to area patients of 19 counties at 19 central and southwestern Illinois hospitals. CICBC is the only provider of blood to Abraham Lincoln Memorial Hospital, Hopedale Medical Complex, Memorial Medical Center and St. John's Hospital. If you have any questions about donating, you can call 1-866-GIVE-BLD (1-866-448-3253). Walk-ins are always welcome, but to schedule an appointment, call Jessica at 1-866-GIVE-BLD, ext. 118, or sign up at www.cicbc.org.
---

Monday, March 1, at the Lincoln Culver's, Habitat for Humanity of Logan County will receive 10 percent of the food sales from 5 to 8 pm. Culver's is located at 2530 Woodlawn Road.
---

Free eye screenings for diabetic retinopathy, sponsored by the Lions Club, will be available at the Logan County Department of Public Health, 109 Third St., on Tuesday, March 2, from 9 a.m. till noon. The public is invited and reservations are not required.
---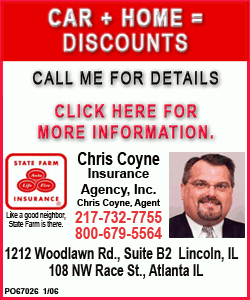 There will be a chicken noodle luncheon on Saturday, March 6, from 11 a.m. to 2 p.m. at the First Cumberland Presbyterian Church, 110 Broadway. The building is handicap-accessible. Donation: $6 for adults, $2 for children 8 & under. Carryouts available. Proceeds will be used for church and community projects
---
Got a good piece of news, information or something that we can all brag about? If you do, e-mail Mike and let us tell everyone about it. Plus you can win cash. Every submission, whether we use it or not, will get your name in the Close Up grab bag. At the end of the month we will draw a name and someone will get $25 just for dropping us an e-mail. If you wish, we will be happy to donate your winnings to the organization of your choice.
You can contact Mike at mikefak@lincolndailynews.com.
[MIKE FAK]