Snow, snow, go away! We are ready for Spring Games! This Y party is for kids in first through fifth grade who like frisbee, golf, a four-square tournament, arts and crafts, pizza, and so much more. This Y party will be on Friday, March 19, from 7 to 9 p.m. at the Y Activity Center. Register today to avoid late fees.

Tired of seeing fingerprints on the wall and refrigerator? Send your kids to the YMCA for a day of Fingerprint Creations. Kids will use their imaginations to turn inked fingerprints into everything from flowers to truck drivers. This creative class will be on Saturday, March 20, from 10:30 a.m. to noon for kids in first through sixth grade. Don't miss out!

Gift certificates are a great gift for any holiday or special event. The YMCA has any size gift certificate available for all its programs. Stop in today and let the Y help you with your choice of programs.

YMCA Archery is designed to help develop individual skills, techniques and abilities as participants learn the proper use of compound bows. The participants will be allowed to shoot at targets and various decoys, including deer and bear. This program is for kids third grade and older and will meet on Saturday mornings.

Set! Bump! Spike! YMCA Volleyball Clinic introduces kids in first through sixth grade to the sport of volleyball and teaches the skills necessary to play. Participants will meet on Tuesday evenings, with first to third grade meeting at 5:30 and fourth to sixth grade meeting at 6:30. Registration ends March 16, so hurry in today.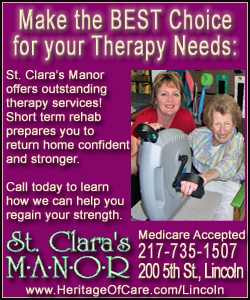 With spring on our minds, we should be thinking about YMCA Spring Soccer. Registrations will be accepted through March 18. This exciting program is designed to introduce soccer fundamentals and techniques to kids age 3 1/2 to 12 years. Participants will practice once weekly and games will be on Saturday mornings. Fees increase after March 18.
YMCA Spring Travel Soccer is for kids 12-14 years who are looking to play in a more competitive manner. This league will compete against other YMCAs on Saturday mornings at the Springfield YMCA's soccer fields, located on the U of I at Springfield campus. Registrations will be accepted through March 18.
[Text from file received from Lincoln Area YMCA]