Come join us for an evening of
Praise, Worship and Fellowship
Sunday, February 28th at 7:00pm

Jefferson Street Christian Church—Worship Center

The Medaris family has adopted 2 little boys from Haiti:
Gregory, age 3 and John Peter, Age 1. The new family of six is finally home and trying to adjust! So far, so good!
*Light refreshments will be served after the event*

All donations received from this event will go toward offsetting the adoption costs for the Medaris Family.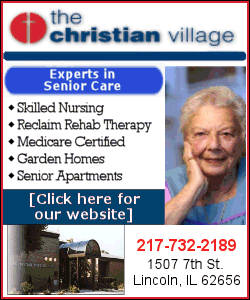 ---
Hot Soup for Those Cold Nights!
Bring your family and join us
for a free soup supper at:
Immanuel Lutheran Church
1409 Pulaski Street, Lincoln
(by Lincoln High School)
February 6, 13, 20, 27
6:00 - 7:30 p.m.
Feel free to join us for a casual worship service
prior to the supper at 5:00 p.m.
---
Good News Publishing Co. from Lincoln Christian Church will be hosting a "Dessert Event and Dessert Auction" Saturday, March 13, 6:30 p.m. Tickets are now on sale for a fun evening of entertainment, including a yummy dessert. This fundraising event benefits the high school choir tour, and concludes with a Dessert Auction. The delicious desserts are donated by the talented bakers from the church family. Tickets may be purchased for $5 from any Good News choir member or from the church office.
---
Service of Prayer for Healing
On the evening of February 28, at 6:00 p.m., Lincoln Christian Church will offering a special evening of prayer, laying on of hands, testimonies, and anointing with their elders leading. There will be worship and praise, some teaching, and then an open opportunity for anyone who would like to come to the elders for prayer, and or laying on of hands and anointing if you'd like. We believe God can still does amazing things when his people gather together and pray. Everyone is invited to come and participate in this Service of Prayer for Healing.
Lincoln Christian Church
204 N. McLean St., Lincoln
217-732-7618
---
[text from files received, Jo Hilliard LDN Spiritual Life editor]
Send your church announcements and articles to

Send a link to a friend