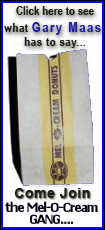 MTV says the "Pinewood Derby" episode will be aired April 4. It has a caricature of President Felipe Calderon in front of Mexico's flag, and it didn't run in Mexico as scheduled Feb. 8 because the use of Mexican national symbols requires the government's permission.
An MTV statement Friday says the channel sought permission and Mexico's Interior Department granted it.
Mexican law states those who fail to show respect for national symbols like the flag and national anthem can face fines of up to 52,590 pesos ($4,900).