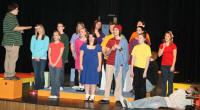 The LCHS drama department presents "You're a Good Man, Charlie Brown." The show will take place in the LCHS auditorium and opens Friday at 7 p.m. There will be shows at 2 and 7 p.m. Saturday and a 2 p.m. Sunday matinee. Tickets for each show cost $5 and are available at the door.
Pictures and captions by Loyd Kirby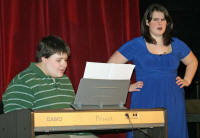 Schroeder (seated, portrayed by Matt Mason) attempts to focus on his music while Lucy (Lorenda Kirby) tries to get her point across.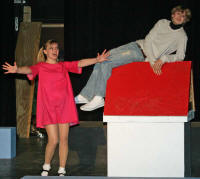 Sally (portrayed by Katy Langdon) awakens Snoopy (Samuel Filbeck) to chase rabbits.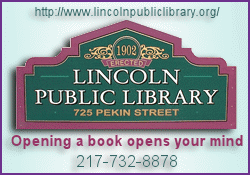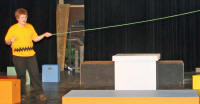 Charlie Brown (portrayed by Ryan Brown) reacts with glee as his kite takes flight.

Linus (Trevor Arrington, in center foreground) sings a song about his blanket as (from left) Charlie Brown (played by Ryan Brown), Lucy (Lorenda Kirby), Snoopy (Samuel Filbeck), Sally (Katy Langdon) and Schroeder (Matt Mason) sing along.