Relay for Life, LDN benchmark, Mardi Gras night and Quilters at Heart make the Close Up
By Mike Fak
[January 22, 2010] Interested in joining the fight against cancer? Come join the kickoff for the 2010 Relay for Life. Relay will be held on June 18 and 19 at the Lincoln Community High School. There will be a brief meeting with a couple of short round-table discussions, followed by a family game time. Organizers would like to see everyone who is on a team or wants to be on a team to come and join them as they join the fight for a world with more birthdays. The theme this year is "The Power of One." Kickoff will be at 6 p.m. on Jan. 25 at Lincoln Christian Church.
---

The LDN hit another benchmark yesterday, although we will admit that, for now, it was a brief moment of expansive news reports. In the Thursday, Jan. 21, 2010, edition, we posted 100 fresh new stories and articles in our publication for the first time in our history.
From time to time we have reached the 90s for stories, but the 100 mark yesterday shows that given the information, we are capable of huge numbers of informative articles of local activities or of interest locally.
In the event a news story makes several different sections, we still count it only once and we don't count a story carried over from the previous day to pad our totals.
Sometimes, news is more scarce than other days, but we have been averaging in the mid-70s for stories so far this year.
This number doesn't include the hundreds of archived or continuous postings that we keep active to help readers make sure they are informed of area activities.
Our paper often is in the 80-story range, and we aren't afraid to show what our numbers are each day in the upper left-hand corner of the paper.
As the year progresses and activities get more abundant, we look forward to going past that 100-story mark from time to time.
We can't do it without your support, however, so make sure you notify us of all the local news and events we should share with our readers. Remember ldneditor@lincolndailynews.com is your e-mail to the community.
---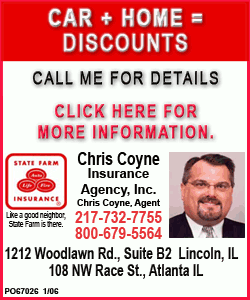 Mardi Gras party at the Knights of Columbus. The night's scheduled events include:
6–7:30 p.m.: Happy hour and appetizers -- New Orleans style

7:30-8 p.m.: Sweet treats

8-9 p.m.: Lincoln College Jazz Band performs

10 p.m.: Super 50/50 drawing
Music will be provided by DJ all evening.
Cash bar and drink specials all night.
Ticket prices: $15 per person at the door, $25 per couple -- advance sale
(Price includes food, entertainment and souvenirs.)
Tickets available for purchase at the K of C Hall or call 217-732-2548 or 217-737-9619.
---

Do you quilt? The Quilters at Heart Quilt Guild will have their monthly meeting at 7 p.m. on Thursday, Jan. 28, at Trinity Episcopal Church, 402 Pekin St. The agenda includes a review of the activities planned for 2010. Visitors are welcomed! For additional information, please contact Stacie Wachtel, 217-732-7029 or staciewachtel@yahoo.com.
---
Got a good piece of news, information or something that we can all brag about? If you do, e-mail Mike and let us tell everyone about it. Plus you can win cash. Every submission, whether we use it or not, will get your name in the Close Up grab bag. At the end of the month we will draw a name and someone will get $25 just for dropping us an e-mail. If you wish, we will be happy to donate your winnings to the organization of your choice.
You can contact Mike at mikefak@lincolndailynews.com.
[MIKE FAK]