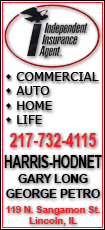 While the weather outside was cold, damp and windy, inside the hall the atmosphere was warm and friendly as area business people, local citizens, members of city government as well as county government all gathered together to hear from LCU President Keith Ray and Dolan Dalpoas, the president and CEO of Abraham Lincoln Memorial Hospital.

On the agenda, a discussion of the book "Caught in the Middle: America's Heartland in the Age of Globalism," by Richard C. Longworth, led by Ray, took up the first half of the session.

In the second half, Dalpoas led the group through an overview of the strategic planning process and served as the facilitator in group discussion on the subject.

Mayor Keith Snyder opened the meeting, thanking all those who had come out to participate, and going through some additional hand-outs that had been distributed to participants.

As he prepared to introduce Dr. Ray, the mayor commented that at the September summit meeting both Ray and Dalpoas had afterward said that they would be willing to help with presentations.

He brought a laugh from the group when he warned, "So be careful what you volunteer for because I will use you."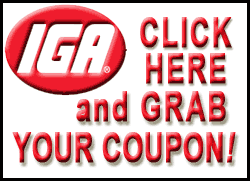 Before he turned the meeting over to Ray, Snyder also passed out sheets of paper numbered 1 to 10. He asked that each person in attendance give some thought to who was not in the room but perhaps should have been.
He asked that they write down names and assured the group that he would contact those people and encourage them to attend future meetings.
"Caught in the Middle: America's Heartland in the Age of Globalism," by Richard C. Longworth
"Caught in the Middle" was published in 2008. It takes a seriously hard look at the Midwest mindset.
Willingly or not, the Midwest has led this nation through many of its greatest and worst milestones, as is evidenced in the opening paragraphs of Chapter 1:
The Midwest is the bellwether of America, the spear point of the American Economy.
It was the frontier when the first pioneers moved west, across the Alleghenies. The mills of Chicago and the factories of Detroit powered America's Industrial revolution. Here commerce boomed and labor wars first raged. The great reformers – Debs and Dewey, Bryan and La Follette, Jane Addams and Betty Friedan – sprang from Midwestern soil. The Great Depression began on Midwestern farms, ten years before the Crash. When the nation recovered in the 1940's, the Midwest recovered first, and most spectacularly. When American industry declined twenty years later, the decline started in the Rust Belt of the Midwest, along with the textile towns of New England. Midwestern steel mills, Midwestern auto factories, and Midwestern television makers felt the first sting of foreign competition, especially from Japan, as world markets began to open, long before globalization appeared.
Chicago invented the skyscraper. Henry Ford invented modern manufacturing. Midwestern unions invented the weekend.
What happens to America happens first to the Midwest.
Ray opened by offering a commendation to Snyder for having the initiative to put together the summit program and encouraging the community to get together and face the issues of Lincoln and Logan County.
To the audience he said, "I'm grateful for your level of concern, because I think it's going to take people like you from all walks of life in Lincoln to get some momentum and try to develop a pace for what all of us want, I think, is agreeably a better future for Lincoln and Logan County."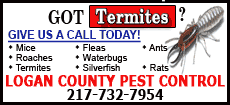 Ray said that the book is something that has hit home for him. Being a Logan County native who left and came back, Ray says he saw in Longworth's writings a very accurate, although sometimes discouraging, description of the Midwestern mindset.
Quoting an article from Atlantic Monthly, Ray said, "Decline-ism is an inseparable part of the American strength." He expanded the thought, saying, "We like to hear how bad things are before we make a change."
Quoting again, Ray said, "Americans like to respond to crisis, and engage a resilience that comes out of the American spirit."
He commented, "Somehow, we like to be at the bottom of the barrel before we start looking up. I think we're close enough that this book ("Caught in the Middle") will help us see how the bottom of the barrel looks."
He said that as he prepared to discuss the book with the group, he wondered just how to approach it.
After much consideration he decided that he would talk about the three specific divisions he sees in the book: first, "The Current Reality," or the bad news; second, "Our Vital Assets," or the good news"; and thirdly, Ray said, "imagining and engineering our preferred future, which may be what Dolan will do for us later about strategic thinking for the future."
"So we're going to look at the bad news, the good news and then we're going to look at how we can make news," he said.
The Bad News
According to another book that Ray has read recently, "The Hollowing Out of the Middle," "we do a really good job of educating the highest level of intellectual capacity students in the Midwest. We graduate them, and we get rid of them. The hollowing out is they grow up, they get really good, they leave, and they what?"
They never come back.
Ray continued, "We promise that everything will be fine if we work hard, play by the rules and never complain. The problem is that when the world changes, we may miss it, leaving us wondering what is next."
The Midwestern spirit dictates a belief that nothing bad ever happens here. The reality of the situation, though, is that rural kids have higher rates of suicide, early child-bearing, alcohol and drug abuse, plus school shootings occur more frequently in isolated rural areas.
Ray said this is just part of the reality of where we live today. The Midwest is becoming the new ghetto, a rural slum so to speak.
Because our well-educated, potentially successful youth of the region are leaving, the demographic of the Midwest is older, less educated and poorer than other regions.
Ray extracted what he called "stinging stereotypes" from Longworth's writing.
"This is a region that distrusts change. This is a region that is a balanced society, hardworking, religious, stolid and dull."
Longworth also quoted another author who had commented on the state of mind of people who are born here, actually live here and don't like to live here. "In other words," Ray explained, "When you're growing up in high school in Logan County, the only thing you can think of is growing up and getting out of here."
Also the book identified Midwesterners as being aloof and uncooperative.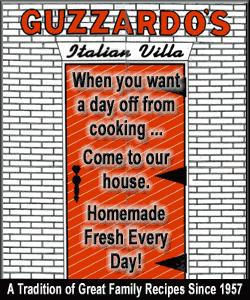 Ray said we don't handle change, let alone revolution. And the revolution here is the impact of globalism.
Midwesterners tend to stick with what works; if it isn't broke, don't fix it. The new mindset needs to be: If it isn't broke, break it. Meaning if it works now, but the world changes, you might miss what is offered.
Longworth also says that Midwesterners don't have or want diversity. He wrote, "Global people want to do deals, rural people want to go hunting."
Ray concluded by saying that in the "Hollowing Out of the Middle" there are 10 issues that the Midwest must face:
The meth epidemic. Ray said we don't want to know the meth production in the rural Midwest compared to any other place in America.

The reality of de-population. Illinois is an exit state; people just continue to leave and go to other places.

Rural poverty; the "New Ghetto" has been socially and economically stated.

The extinction of the family

De-industrialization

The immigration factor

Job losses

Economic decline

Environmental threats

Attitude and disposition toward change
Ray asked: How do you respond to the things Longworth has said about the bad news?
Roger Matson, the owner of Action Rentals, spoke up and said that part of the problem is how we are raised. He spoke specifically about learning about politics from parents and being told what to think.
He noted also that as kids we are taught a certain philosophy: "People who have money will always have money, and those who don't, won't."
Ray asked why the "have not's" believe they can never have -- did someone tell them that? -- and Andi Hake of the chamber of commerce said that it is indeed what they are told.
She said "have not" parents seem to tell their kids that they won't ever be better than the family they were born in.
Kevin Bateman, Logan County's newest board member, said that he felt one thing that was holding back the people of Logan County was what they were seeing going on in larger communities.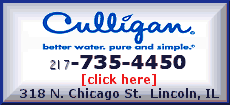 "With the World Wide Web and the news agencies we're watching daily on cable, we're watching the blight of America in areas that are not affecting us. We're watching Chicago, Los Angeles and Detroit."
Bateman went on to say that what is happening in those larger areas instills fear in the local population and makes us hesitant to take risks.
Ray picked up on that and said, "We're taking our cues sometimes from the wrong place," and Bateman said yes.
Gary Davis also spoke, representing himself, saying that he was really concerned about the level of educational achievement in this area. He said, "The actual baccalaureate achievement percentage in America is 24 percent, here we're at 14 (percent)."
Davis concluded that those who are not educated will meet with insurmountable obstacles if they try to go into business.
He expressed that as they deal with business issues such as government, city issues, IRS and so on and so forth, even though they may have the imagination needed to foster a new business, they will not have the know-how to deal with these issues.
Ray agreed that education is an issue. Longworth had discussed this issue, citing the city of Detroit, where manufacturing was the key source of family incomes
The general consensus there was that education was not needed in order to earn a good living.
However, as trends changed and manufacturing left the area, these uneducated people were left with no means to support themselves.
Ray expanded, saying that part of the mindset of the Midwest is exactly that. In manufacturing, and to a certain degree even in agriculture, the belief has been that one does not have to be highly educated to succeed. This is perhaps one of the mindsets that will have to change before the Midwest can rise again.
Dr. Kristen Green-Morrow, a local physician as well as president of the board of the Lincoln & Logan County Development Partnership, expressed a concern over the local youth.
Some Logan County teenagers, she said, "come from homes where they are just trying to survive."
She indicated that young girls are more or less learning through their family environment to get pregnant and get support.
She went on to say that many of these young girls are capable of achieving greater things but are being shown by example that there is no need.
Frank Shepke of St. Clara's Manor voiced an opinion that in our society we reward competitiveness and ignore collaboration.
He said, "Sometimes we have to be collaborative before we can become competitive. We need to figure out what our strengths are as a community. And organize and collaborate around those strengths before we can become competitive regionally or even nationally."
Ray ended the "bad news" segment by saying that in global studies it has been found that it takes only 2 percent of a total population to start a revolution.
Mathematically 2 percent of the city of Lincoln's 14,000 people would be 280 souls.
He concluded that those in the room were a decent start to initiating a revolution in Logan County and turning around these "bad news" issues.
[By NILA SMITH]