The Lincoln FC, youth wrestling, Kathryn Arneaud, Humane Society, Girl Scouts and Jeff St. Christian Church all make Close Up
By Mike Fak
[January 26, 2010] The Lincoln FC, the competitive soccer club of Lincoln, will have an informational meeting Tuesday, Feb. 2, at 7 p.m. at Chad's Blind, 1230 Fifth St. The purpose of the meeting is to discuss the formation of competitive soccer teams for ages 10-18. Lincoln FC was formed in the spring of 2009. The club will soon begin work on a soccer complex behind the Lincoln Walmart Supercenter, as soon as the lease with the city is finalized. Come see what Lincoln FC is all about!
---

The Lincoln Youth Wrestling team traveled to Pittsfield on Sunday, Jan. 24, to compete in the Saukee Open at Pittsfield High School. The results were as follows:
7- and 8-year-olds: Collin Cogdill, second; Roux Starr, third; Tyler Werth, fourth

9- and 10-year-olds: Jarrett Poole, second; Austin Dennison, fourth
The team will head to Mount Zion next Sunday to wrestle in the Mount Zion open tournament.
---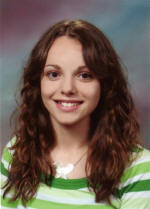 Kathryn Arneaud, eighth-grader at Zion Lutheran School in Lincoln, has been selected as the Zion Lutheran December Student of the Month. Kathryn is an honor roll student, and her ZLS activities have included basketball, track and field, regional and state history fairs, cheerleading, chimes choir, choir, volleyball, band, math bowl, spelling bee, geography bee, Lutheran honor band, student council, and speech team.
Her church and community activities include Sunday school, confirmation class, youth group, Vacation Bible School, summer reading program, 4-H Junior Master Gardeners program, YMCA basketball, gymnastics, volleyball camps, ballet, jazz and tap dance lessons.
Kathryn enjoys painting, photography, traveling, playing volleyball and spending time with her friends.
Her parents are Robert and Marcia Arneaud of Lincoln.
---

The Humane Society of Logan County asks you to please spay or neuter your pets. Each year 75,000 dogs and cats are put down in Illinois. The Humane Society of Logan County through Animal Protective League of Springfield is offering low-cost spaying and neutering along with free rabies vaccine. Offer is good until Feb. 28. For more information call 217-737-4042.
---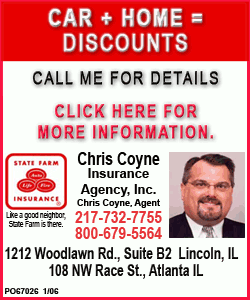 Girl Scouts of Central Illinois sponsors trips to Europe and area girls are invited to register.
All girls ages 14 and older by the time of the trip are invited to join GSCI for a 17-day extensive trip throughout Europe. Girls will explore different cultures as they explore the sights of London, Paris, Versailles, Lucerne, Adelboden, Florence and Rome.
The dates of the trip are July 8-23, subject to change four days on either side of the departure date. Spots will be filled on a first-come, first-served basis. Total cost for the trip is $4,200 per person. Final payment must be made by May 1.
For more information, contact Amy Hutcherson at Girl Scouts of Central Illinois at ahutcherson@girlscouts-gsci.org or 217-725-8703, or visit www.girlscouts-gsci.org.
---

Beginning Sunday, Jan. 31, Jefferson Street Christian Church will host Dave Ramsey's Financial Peace University, a 13-week course designed to help people beat debt and build wealth. The class will last from 9 to 10:30 a.m. each Sunday. There will also be a Tuesday evening class that begins on Feb. 2. The Tuesday class will be from 6:30 to 8 p.m. The cost of the class kit is $100. Any individual or family that purchases the kit will have a lifetime membership to Financial Peace University and will be eligible to take any other FPU class anywhere in the country for free. Those interested in taking the class are encouraged to call Jefferson Street Christian Church at 217-732-9294, or e-mail Dustin at dustinf@jeffstreet.org for more details. More information on Financial Peace University can also be found at www.daveramsey.org.
---
Got a good piece of news, information or something that we can all brag about? If you do, e-mail Mike and let us tell everyone about it. Plus you can win cash. Every submission, whether we use it or not, will get your name in the Close Up grab bag. At the end of the month we will draw a name and someone will get $25 just for dropping us an e-mail. If you wish, we will be happy to donate your winnings to the organization of your choice.
You can contact Mike at mikefak@lincolndailynews.com.
[MIKE FAK]