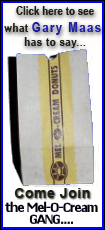 The Orange trailed 14-0 just 3 minutes into the game. They rallied to take the lead before the break, and started the second half with an 18-8 surge to take command.
"We recovered from the worst start I can remember," Boeheim said. "Our defense picked up and our offense got going. To go into halftime ahead was really unbelievable. To dominate a top-10 team after giving them 14 points is quite an effort. That's as good as we can play. Everybody was looking for each other."
Boeheim earned his 819th career win, breaking a tie with Connecticut coach Jim Calhoun for sixth in Division I. Boeheim also extended his Division I record for most 20-win seasons to 32 in his 34 years at his alma mater.
Syracuse (20-1, 7-1 Big East) has won seven straight since a home loss to Pittsburgh and has defeated Georgetown (15-4, 6-3) six consecutive times in the Carrier Dome.
Andy Rautins also scored 15 points for Syracuse, 10 on free throws, and had six assists and six steals. Johnson added nine rebounds, four blocks and three steals.
Austin Freeman paced Georgetown with 23 points and Jason Clark had 15. Greg Monroe had eight points and only four rebounds before fouling out with 6:27 left. Chris Wright, averaging 15 points, finished with seven on 3-for-10 shooting, missing all six 3-pointers he attempted.
The game turned at the start of the second half. After only taking two shots before the break, Rick Jackson converted a lay-in, a deft hook over Monroe along the baseline, and a follow after a steal by Johnson -- all in a 79-second span -- to give the Orange a 43-33 lead with 16:10 left.
"We knew we had to step up and make plays on defense," said Johnson, who had all of his blocks in the second half. "They were too comfortable out there shooting 3s."
After Jason Clark drained a wide-open 3 from the left corner, Johnson responded with a 3 from the top of the key. Scoop Jardine's no-look pass found Joseph underneath for a layup and Joseph converted a pair of free throws to boost the lead to 52-37 at 12:37.
"We just were more active," said Jardine, who scored all nine of his points in the first half to key Syracuse's comeback. "Austin Freeman was making 3s like no other. We calmed him down. We got the tall guys all committed to defense, all committed to one thing."