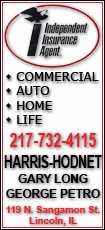 Each year one or two of these donors or volunteers are selected to be added to Habitat for Humanity of Logan County's "Wall of Fame" in appreciation of their outstanding support.

John Sutton is the 2009 recipient of this honor for his generosity in spending many hours constructing Habitat homes. Where there's a Habitat house being built, John can be found working on it.

Both Regions Bank and St. Clara's Manor are the 2010 honored recipients. On Thursday, Regions Bank donated its drive-up location at 909 Woodlawn to Logan County Habitat. Thanks to this generous offer, Habitat for the first time has a home of its own.

St. Clara's Manor recently donated a house on a lot at 503 N. Adams St. in Lincoln to Habitat. This house will be completely refurbished inside and out. Because of St. Clara's generosity, there will soon be another homeowner in Lincoln.

Each of the honorees received a plaque and was recognized Thursday at the conclusion of the ribbon-cutting ceremony during which Regions Bank transferred the keys of the 909 Woodlawn satellite bank to Habitat.
[Text from Karen Sams Davis, Habitat for Humanity of Logan County]