District 27 pre-K screening, St. John UCC, Hudson's Talk of the Town, Lincoln soccer club and Ales for Tales in Close Up
By Mike Fak
[July 16, 2010] Lincoln Elementary School District 27 free early childhood, pre-K screening. District 27 is scheduling appointments for early childhood and pre-K screening on July 28 and 29 at Adams School, 1311 Nicholson Road. In the screening, 3- to 4-year-olds will be assessed in the following areas: knowledge of general concepts, hearing and vision, speech and language skills, and motor skills. Children lacking appropriate age-level skills may qualify for the pre-K program at District 27. Please call 732-2522 to schedule a screening appointment.
---

St. John United Church of Christ, as part of their 150th anniversary celebration, will host a quilt show. The featured quilt will be the "Underground Railroad Quilt," owned by Mary Hathaway, a well-known authority on the Underground Railroad and the role quilts played. Many other older and newer quilts will be displayed as well, in the Fellowship Hall and the sanctuary. The public is cordially invited to view the quilts on Saturday, July 17, from 5 to 7 p.m., and Sunday, July 18, from 9 a.m. to 1 p.m.
The public is also invited to their 10 a.m. worship service on Sunday, when Mrs. Hathaway will speak on the Underground Railroad movement in Illinois and the role that quilts played.
---

Hudson's Talk of the Town will host "Open Mic Night" with the Ramblin' Elk on Saturday, July 17, from 8:30 to 11:30 p.m.
---

Lincoln Futbol Club will have a fundraising night at Culver's, 2530 Woodlawn Road in Lincoln, on Monday, July 19. The time is from 5 to 8 p.m. with a portion of all sales going to support Lincoln soccer.
---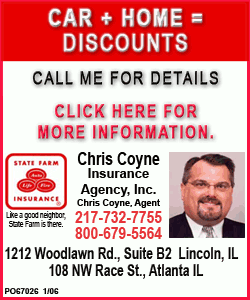 A reminder that Friday night the Humane Society of Logan County is having their second annual Ales for Tails. There will be beer and wine tasting, food, music by Shiftin' Gears, door prizes, raffle, 50/50 drawing, and fun, all while helping the animals of Logan County. The event is at Chad's Blind, 1230 Fifth St., from 6 to 10 p.m. For tickets or more information, call 732-1979 or 732-4805. Must be 21 to attend.
---
Got a good piece of news, information or something that we can all brag about? If you do, e-mail Mike and let us tell everyone about it. Plus you can win cash. Every submission, whether we use it or not, will get your name in the Close Up grab bag. At the end of the month we will draw a name and someone will get $25 just for dropping us an e-mail. If you wish, we will be happy to donate your winnings to the organization of your choice.
You can contact Mike at mikefak@lincolndailynews.com.
[MIKE FAK]