Glass recycling cancellation, ALMH, Humane Society, blood drive and Habitat in Close Up
By Mike Fak
[July 30, 2010] The Logan County Joint Solid Waste Agency and the Lincoln Junior Woman's Club announce the cancellation of the glass recycling collection for the month of August. The next collection will be Saturday, Sept. 11, from 9 a.m. to noon at the Logan County Fairgrounds. For additional information regarding the glass recycling program, contact Mitzi Rohlfs, agency coordinator, at 732-9636.
---

Visitors to the ALMH website may have already noticed its new addition: online bill paying. In an age of paperless paychecks and shopping from the comfort of your living room, ALMH has furthered its dedication to patient convenience by offering bill paying at the click of a mouse.
The "Pay My Bill" link appears at the top and bottom of the home page of the ALMH website, www.almh.org, as well as along the sidebar. Once clicked, the link takes visitors to a page where they are instructed to type in the patient's name and account number. The site can be used with either credit or debit cards.
---

The Humane Society of Logan County and Ace Hardware will have a dog adopt-a-thon Saturday, July 31, at Ace Hardware, 521 N. Kickapoo, from 10 to 11 a.m.
---

There will be a CICBC blood drive on Monday, Aug. 2, at Lincoln Masonic Center, 2022 N. Kickapoo, from noon to 6 p.m. The Central Illinois Community Blood Center is the blood provider to area patients of 19 counties at 19 central and southwestern Illinois hospitals. CICBC is the only provider of blood to Abraham Lincoln Memorial Hospital, Hopedale Medical Complex, Memorial Medical Center and St. John's Hospital. If you have any questions about donating, you can call 1-866-GIVE-BLD (1-866-448-3253). Walk-ins are always welcome, but to schedule an appointment call Jessica at 1-866-GIVE-BLD, ext 118, or sign up online at www.cicbc.org.
---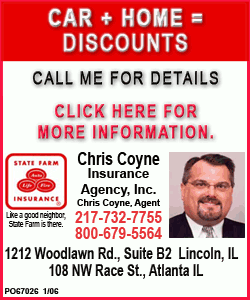 Habitat for Humanity of Logan County has a fundraiser the first Monday of each month at Culver's in Lincoln, 2530 Woodlawn Road. From 5 to 8 p.m., 10 percent of all sales will go to Habitat.
---
Got a good piece of news, information or something that we can all brag about? If you do, e-mail Mike and let us tell everyone about it. Plus you can win cash. Every submission, whether we use it or not, will get your name in the Close Up grab bag. At the end of the month we will draw a name and someone will get $25 just for dropping us an e-mail. If you wish, we will be happy to donate your winnings to the organization of your choice.
You can contact Mike at mikefak@lincolndailynews.com.
[MIKE FAK]