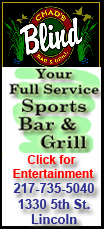 He went on to explain that originally there were two agencies, Downing Insurance and May Insurance. "I bought out May and Pat (Przykopanski) bought out Downing," he said. The new owners of each business then decided that they would join forces and form one agency with a wide variety of offerings for the Mount Pulaski area.

They also decided that they wanted to preserve the names of the former owners, saying that in doing so they were keeping name recognition and making the transition less confusing for their customers.

Even though the pair have now operated the agency in Mount Pulaski for over 20 years, they still see no need to make any name changes.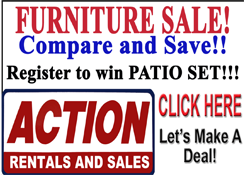 When they purchased Moriearty Insurance Agency in Lincoln three years ago, it was no small wonder that they chose to once again keep the agency's original name.
"Moriearty (Insurance) has been in Lincoln for over 50 years," Przykopanski commented. He went on to say that once again, the two new owners saw no reason to confuse things with a change of name.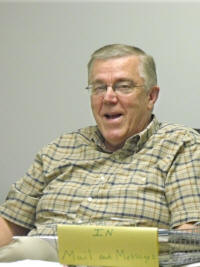 In fact, over the last three years, the Moriearty Agency has changed very little. Harold Boyer (pictured here) and Brenda Wickline (pictured below) are still familiar faces as the agency's licensed agents, along with Gaye Boward and a more recently added part-time helper, Katie Crosier.
The agency still offers the same companies and coverage as in the past, though Clements commented that they have added a few more companies to the lineup.
Buying the Lincoln agency meant that it could now offer everything that was offered by the Mount Pulaski office. The only coverage that Clements and Przykopanski didn't bring to Lincoln was agricultural-related, such as crop insurance.
Downing, Przykopanski, Clements and May Inc. belong to a cooperative of independent insurance agencies. The cooperative gives the small business big business buying power when it comes to choosing companies to represent.
Clements commented that some companies choose not to work with a small agency because of the lack of volume they would turn over. Being part of an organization, the small agency then becomes part of a larger entity that the provider company finds more attractive.
The agencies represent such well-known names as Auto Owners, Pekin Insurance, Met Life, Travelers, Frontier Mutual and many more.
As independent agents, they can literally shop on behalf of the client for the best coverage and the best price.
In addition, they have the versatility to deal with the high-risk situations, whether it is a driver with a record or a business owner in a dangerous profession. The agencies are not held to the guidelines of a single company. Again, they have that ability to shop for the client and find what is best suited for their needs.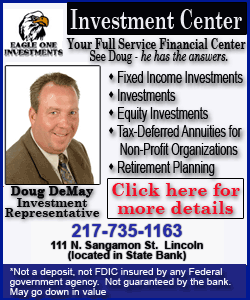 Przykopanski said that all the companies they represent provide their own claims adjusters who respond quickly with just a phone call from the agency. Clements added that these companies also offer teams of adjusters during catastrophic events, so clients are served quickly and efficiently during times of loss.
While both men will tell you that they have purposely chosen not to make a lot of changes at the Lincoln office, there is one very dramatic change that took place not too long ago.
For years, Moriearty's offices were located in a vintage Victorian home-turned-office on Eighth Street, not far from Abraham Lincoln Memorial Hospital.
"Except for the hospital, the Eighth Street location was mainly residential, and the hospital is leaving," Przykopanski explained. He went on to say that he and Clements decided it was time to get the offices into a more visible location.
That location ended up being on Keokuk, in the former home of the Illico Oil Co. office. Przykopanski said that for the most part, the building was just the right layout. They had to move one wall, but otherwise, fresh paint and a few other minor adjustments and it was move-in ready.
The office building offers a large reception area with guest seating, offices for each of the licensed agents and a massive basement for storage.
Clements explained that the building even had more space than the agency could actually use, so they have remodeled one office that will be offered for rent.
As the business spotlight shines on Clements and Przykopanski, they might very well tell you that their secrets to success involve keeping connected to their past while building for the future, knowing when it is the right time to make a change, and having an excellent staff to support them.
While this article may be about the changes going on at the Lincoln office, Clements said that he wanted the staff of the Mount Pulaski office to be acknowledged as well. Both men know that they cannot continue to move forward if they don't have a team that is willing to move with them.
The Mount Pulaski office is located at 124 S. Washington. There you will find Clements and Przykopanski as well as their staff: Kathy Letterle, Deb Fuhrer and Ellen Foley.
The new Lincoln office is located at 617 Keokuk, and Boyer, Wickline, Boward and Crosier keep the business running smoothly.
Stop by today at either of these locations and you'll find courteous, friendly staff and agents who are more than happy to talk with you about all of your insurance needs.
[By NILA SMITH]