Catholic Charities, Relay for Life and Culver's, Weight Watchers Challenge, and Middletown Presbyterian in Close Up
By Mike Fak
[June 01, 2010] The Lincoln branch of Catholic Charities is currently seeking members to serve on the local Community Advisory Board. Members will help Catholic Charities carry out their mission by supporting community awareness, fundraising and advocacy activities. Those interested in volunteering with the agency in this capacity can attend an informational meeting at the office at 2100 W. Fifth St. in Lincoln on June 10 at 5:30 p.m. If you are unable to attend but would like more information, please contact Trudi from Catholic Charities at 217-732-3711.
---

On June 3 the Relay for Life team of the Christian Crusaders will be delivering your food at Culver's of Lincoln from 5 to 8 p.m. They will receive 10 percent from all sales during those hours to help their team raise money for Relay for Life.
On June 16 Culver's is sponsoring Relay for Life all day. The Relay for Life of the American Cancer Society will receive 10 percent of all sales all day. Thank you for your support in our fight against this deadly disease.
---

Weight Watchers Walk-it Challenge will be on Saturday, June 5, at 10:30 a.m. at Kickapoo Creek Park. A group of Lincoln-area Weight Watchers will complete a 5K walk. This is a nationally sponsored event to encourage Weight Watchers members to move more. The group has been working on their walking skills since the beginning of April. To date, the group has logged over 1,000 miles in their training, with the walk on Saturday to be added to this total. All over the United States, Weight Watchers will or have already walked a 5K, with this weekend being the final week of the challenge.
---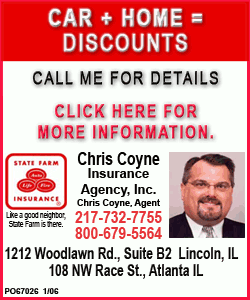 The Middletown Presbyterian Church will be celebrating its 175th anniversary on June 27. If any former members would like attend a day of celebration and worship, please send your name to Presbyterian Church, P.O. Box 147. Middletown, IL 62666; call 217-445-2679 after 4:30 pm; or e-mail M.Dobey@mchsi.com.
---
Got a good piece of news, information or something that we can all brag about? If you do, e-mail Mike and let us tell everyone about it. Plus you can win cash. Every submission, whether we use it or not, will get your name in the Close Up grab bag. At the end of the month we will draw a name and someone will get $25 just for dropping us an e-mail. If you wish, we will be happy to donate your winnings to the organization of your choice.
You can contact Mike at mikefak@lincolndailynews.com.
[MIKE FAK]