Eagle Crest Camp, with 297 beautiful acres overlooking the Illinois River near Washburn, will offer summer camp activities July 26-30 for Logan County youth ages 8-12. This camping opportunity is especially designated for youth from smaller rural communities in central Illinois. Eligible youth whose families meet household income guidelines will be approved for camping slots cost-free.

Summer programs and activities provide social, educational and spiritual growth. This year's camp activities include swimming, wilderness training, biking, crafts, hiking, nature studies, games (including paintball), treasure hunting, singing, campfire, dramatics and much more.

For more information about camping programs or to apply for camp for your child, call The Salvation Army of Logan County at 217-732-7890. Applications will be completed in person at The Salvation Army Keest Center, 307 N. Kickapoo St. in Lincoln. June 11 is the deadline for submission of applications.
---

New Holland Cruz-In will sponsor a cruise-in with food by New Holland Fire Department, 50/50 drawing, music, popcorn, dash plaques, Father's Day special and many prizes. Come over and have fun. Bring your rods, classics, special-make cars and motorcycles.
Where: Downtown New Holland
When: 4:30-8:30 p.m.
---

The Middletown Alumni Association has set the 2010 banquet date for July 10 at the American Legion in Lincoln, 1740 Fifth St.
Honored classes this year are 1940, 1941, 1950, 1951, 1960 and 1961.
Reservations may be made by contacting Tom Sparks at 217-732-8496, or write to 165 Lincolnwood Drive, Lincoln, IL 62656.
Tickets are $20 per person. Reservations and payment must be received by June 22.
Anyone who attended Middletown High School or the combined Middletown-New Holland High School is invited with a guest, regardless of whether they are a graduate. Registration begins at 5:30 p.m., with dinner at 6 p.m.
There will be a memorial service for classmates who died after July 2008. If you know of someone who should be included, please contact Elsie Tibbs at 217-415-8711.
Planners are also seeking current addresses for the following: Gene Elliott, Bonita Rademaker, Ruth Stewart, Mary Ellegood and Doris McMorris. If you can provide any information, please contact Sparks at 217-732-8496.
---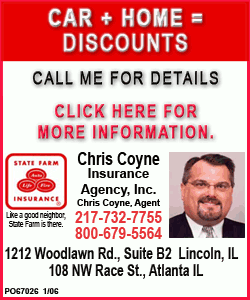 Erich Maxheimer, son of Mike and Suzie Maxheimer, received the annual American Legion Ryman-Fuiten Post 447 Scholarship this year. This is a $500 scholarship, awarded annually to a graduating Mount Pulaski High School senior who is a son or grandson of a U.S. armed forces veteran. This veteran usually is currently or has been a member of Mount Pulaski American Legion Post 447.
Erich will be attending the University of Illinois and majoring in civil engineering. He also informed us that he is planning to join the University of Illinois Air Force ROTC program.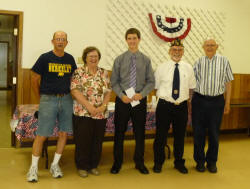 Left to right: Mike Richner, SAL Squadron 447 commander; Jo Ellen Maske, Auxiliary Unit 447 president; Erich Maxheimer; Phil Bertoni, Post 447 commander; Wally Kautz, Post 447 adjutant. (Click on picture for larger image.)
---

We want your summertime pictures. With summer here, there is always plenty going around in our community. Lincoln Daily News invites all of you to help us document the summer of 2010 by sending us your pictures.
With our expanded format we have more room than ever to publish pictures, not only on our front page but in the Community and Sports sections as well.
We can't promise every picture sent to us will be published, as sometimes there are just too many. But we can promise you this: Whether it is a picture, a point of information or a story, we will always give you credit for your work.
Join the many readers who have found out how easy it is to become a contributor (and receive the credit you deserve) in your local neighborhood newspaper: Lincoln Daily News.
---
Got a good piece of news, information or something that we can all brag about? If you do, e-mail Mike and let us tell everyone about it. Plus you can win cash. Every submission, whether we use it or not, will get your name in the Close Up grab bag. At the end of the month we will draw a name and someone will get $25 just for dropping us an e-mail. If you wish, we will be happy to donate your winnings to the organization of your choice.
You can contact Mike at mikefak@lincolndailynews.com.
[MIKE FAK]