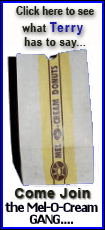 Mahmoud Ahmadinejad spoke before hundreds of thousands gathered at the shrine of Ayatollah Ruhollah Khomeini and the surrounding grounds in southern Tehran for a ceremony marking his death 21 years ago. The Khomeini-led Islamic revolution toppled the U.S.-backed shah and brought hard-line Islamists to power in 1979.
"Those who deviate from the Imam's path will be banished by the people," Ahmadinejad said.
The stark warning came just days ahead of the opposition's mass rally planned on the anniversary of last June's disputed presidential election. The rally is to be the first opposition gathering in months and authorities have warned they will confront any unauthorized demonstrations.
The Iranian opposition claims Ahmadinejad won the June 12 election through massive vote fraud. It had rallied for months against the election results but was met by a heavy government crackdown, which the opposition says killed 80 people during street protests so far.
More than 100 opposition figures and activists were put on a mass trial, and 80 of them were sentenced to death or given prison terms ranging from six months to 15 years.
But Ahmadinejad reiterated Friday that the election was "100 percent free" and added he is "bound by duty to protect the people's vote."
The annual commemoration of Khomeini's death is part mournful ceremony, part political rally for the base that sustains Iran's hard-liners amid rising dissatisfaction with inflation, unemployment, social constraints -- and an opposition movement that has persisted despite the crackdown.
Ahmadinejad, known for his anti-Israeli rhetoric, used the podium at the shrine grounds Friday to blast Israel's commando raid on the international flotilla off Gaza's shores, calling it "barbaric" and urging the dismantling of the "Zionist regime."
"They have lost their self-control and ability to think," he said of the Israeli raid that killed nine activists on the Turkish flagship in the flotilla Monday.
"Thousands such freedom flotillas across the world will sail out with freedom fighters, to scrap the Zionist rule and bring peace and freedom to all mankind," added Ahmadinejad.
Iran's supreme leader and Khomeini's successor, Ayatollah Ali Khamenei, also criticized the raid as a "mistake" that "showed how barbaric the Zionists are."