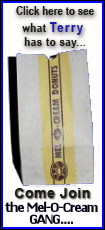 Shew began her career as a jeweler working for Williams Jewelers. That business was a storefront located on the southeast corner of Pekin and Kickapoo streets.

She had been with that business about seven years when it came up for sale. Shew took advantage of the opportunity and bought out the Williams business, but even before she could initiate a name change, tragedy struck.

A fire completely destroyed the building, and the businesses that were located there suffered huge losses.

But for Shew, a fire was not going to stop her from owning and operating a business that she loved. She went shopping for a new location and found it on Kickapoo Street.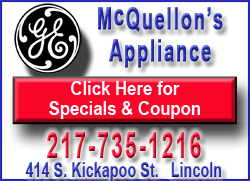 It wasn't the location she dreamed of, though. Her first choice was 614 Broadway, but at the time that storefront was occupied by a shoe store.
However, luck was on her side, and within just a few months, the owner of the shoe store contacted her that he was retiring and the building was going to be available.
"We grabbed it up," she said, "and we've been here ever since."
Shew is a graduate of the Gemological Institute of America, where she studied retail jewelry, diamonds and colored stones. Her store belongs to a jeweler retail group that offers annual conventions with opportunities to attend training seminars and keep up to date on the newest developments in metals and stones.
She runs her business with a great deal of help from her assistant manager and daughter, Angela Getchel; as well as Teresa Luken; Kenda Colby, who is Shew's sister; and Colby's daughter Britney, who helps out on Saturdays.
Shew said there is one misperception about her store that she would like to correct.
She explained: "Some people have the impression that all we carry are expensive pieces of jewelry, but we have jewelry in all price ranges from $5 on up, and people are really surprised that we carry giftware."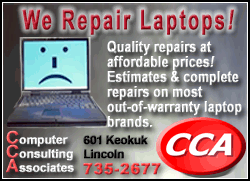 Indeed, stepping into MKS is dreams come true for the glass collector, the person who loves the novel and unique, and anyone of course who wants the latest in fashionable jewelry.
Among the offerings at MKS one will find the Melody in Motion clocks made by Seiko. The clocks play at least seven different songs on the hour, and there are some that have an alternate set of tunes for Christmas.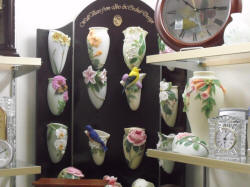 Shew pointed out several unique lines they offer, including Ibis & Orchid wall vases. These beautiful hand-painted vases are a throwback to the traditional wall pockets that were popular at the turn of the century and into the 1950s. They are made of crushed marble and offer a wide variety of floral and wildlife motifs.
In addition to the wall vases, there are also table vases available, as well as a lovely collection of night lights.
Another line that the store offers is Peggy Carr glass. The pieces are made of fused glass, and each color incorporated has been done individually in the glass. Shew points out that these pieces are safe for food and can be placed in the dishwasher, making them not only beautiful but also utilitarian.
For those who love the luxury of lotions and scent, the store also carries the Caren line. The selection includes hand lotions, body lotions and shower gels in seven choices of fragrance. A portion of all proceeds from the Caren line goes to support breast cancer research as does the Sarah's Angels line of angel figurines.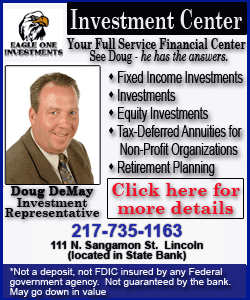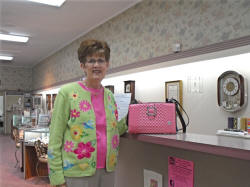 Shew said that she is also excited about something new that the store is going to be offering. The Shelly Bag provides a quick and easy way for ladies to "change purses." Instead of moving purse contents from one bag to another, with the Shelly Bag one literally changes the purse. Each bag is offered in a basic color but comes with a magnetic wrap that can be quickly and easily removed, then replaced with a different design.
Anyone who is in the market for fine jewelry will also not be disappointed with the huge selection the store offers.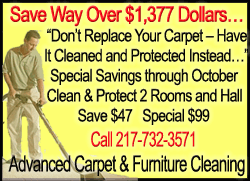 Shew said that one of the advantages to doing business with MKS is that she chooses each and every piece of jewelry personally, and she deals only with reputable companies.
She and her staff are also well-versed in the stones they sell and share their knowledge with the buyer.
"We let people know about the stones they are purchasing and what precautions they should take in wearing them and how to clean them," she said.
Shew also keeps up with the times, offering a nice line of alternative metals and the newest designs for both men and women.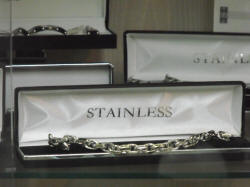 Of course jewelry is not just for the women. MKS offers a very nice line of accessories for men, including the newest trend: sterling bracelets.
In addition to all this, the store offers a solution to one of life's biggest dilemmas: what to buy the wife for Christmas.
Annually the store hosts what they call a Ladies Night. An evening is set aside right before Christmas when gals can come into the store and make a "wish list" for their spouses or significant others.
Shew said that they encourage every lady to pick at least two or three pieces that they would like to own. MKS then sends out postcards to their partners, letting them know that the lady in their life has made an effort to help them with their Christmas shopping.
Because the wish list includes multiple choices, the ladies are still surprised on Christmas morning, and their counterparts become the heroes for choosing a gift their spouse loves.
For MKS Jewelers, at least a portion of their success may very well be location. Shew said that the store does very well on the square, and she thinks that it is definitely to their advantage to be there.
In addition, being hands-on in choosing the products they sell, giving each customer personal attention and offering a wide variety of quality items have to be large contributors to this story of success.
So, the next time you're walking past MKS, do not resist the temptation to stop in and look around. There is a good chance you'll find a pleasant and affordable surprise. Whether it be a gift for the bride, a special anniversary gift, something for Father's Day or just a little gift to yourself, you'll be glad you took the time.
[By NILA SMITH]