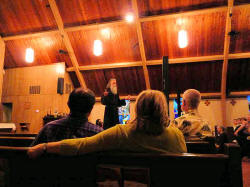 John Michael Talbot in Mount Pulaski

Send a link to a friend
[June 10, 2010] MOUNT PULASKI -- John Michael Talbot made his long-awaited appearance in Mount Pulaski Tuesday night, performing for a delighted and enthusiastic audience of not only locals, but those who drove in from Decatur, Springfield, Lincoln, Rochester, Peoria and other outlying areas.
A blend of his created gospel music and his gospel-based messages kept everyone glued to this well-known personality who has undergone his own personal transformation from his rock group Mason Proffit and the Janis Joplin drug and liquor-filled days of agnosticism back to Christianity.
Now a Catholic monk who has founded an integrated monastic community in the Ozark Mountain area of northeastern Arkansas, John Michael sadly relates: "On one particular evening we were opening for the queen of rock herself, Janis Joplin. I watched her backstage as she downed bottles of Southern Comfort like it was soda pop."
The sight seized him deeply, and when the concert was over he walked back onto the empty stage. Looking out over the arena floor, he was shocked to see lying before him a sea of bottles, beer cans and drug paraphernalia littered as far as he could see.
"Suddenly," he recalls, "the rock-star life seemed empty and sad. It wasn't at all what I wanted my life to stand for."
It was a prophetic experience for the youngster that caused him to question his whole lifestyle as he began to ask, "Isn't there something more?"
A John Michael Talbot ministry is unlike any other you've ever attended. Through music, teaching and meditation, John Michael leads Holy Spirit-filled evenings that many have called mini-retreats, renewals or missions.
John Michael is promoting for all an alternative living concept in the midst of our hedonistic and often misguided modern civilization. The Mount Pulaski mission of three days finishes Thursday at 7 p.m. at St. Thomas Aquinas Church.
John Michael shows that you need not live in a monastery to know the peace of God and be a blessing to the world.
As John Michael tells us: "The world is my cloister, my body is my cell, and my soul is the hermit within!"
He inspires all of us to live the life of the spirit as expressed by our spiritual forebears.
"You can cultivate solitude, silence and sacred stillness on the spot where you are standing," he says.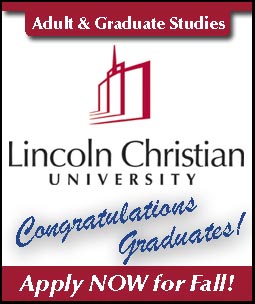 In the fall of 2009, John Michael began returning to his gospel roots.
As he reports: "We are experiencing a fresh and powerful new wind of the Spirit in my ministry and community. I want to share that enthusiasm and joy with you!"
The beauty of the three-day ministry is that excitement builds from night to night, and more and more people come each night as the word spreads from person to person.
John Michael goes on to say: "Our biblical model for this is St. Paul, who went to a local area and stayed there evangelizing and building up the local community before moving on to another region.
"The more primary model is from Jesus himself, who went from village to village in spiritual simplicity to preach the Good News to all God's people.
"Of course, the example of the saints like St. Francis of Assisi and the early Franciscan preachers is also a great inspiration for this ministry. They went in gospel simplicity from village to village and church to church, preaching the Gospel of Jesus using music, art and proclaimed words."
John Michael travels from place to place -- not with buses, flashing stage lights and extravaganza -- but rather simply using his own guitar and vocal gospel music, his thoughtful meditation, and his gospel-based message to show and tell us all how to improve our relationship with God in a more meaningful and personal way.
[Text from file received from Phil Bertoni]