First Baptist Church, Lincoln Area Summer Band, Original Farmers' Market Lincoln, Mount Pulaski anniversary fundraiser, New Holland Cruz-In and Healing Life Society Garden Party in Close Up
By Mike Fak
[June 11, 2010] The Summer Social at First Baptist Church, 101 Broadway Street in Lincoln, is Thursday, June 17, from 4:30 to 6:30 p.m. The menu is pulled pork barbecue sandwich, baked beans, slaw, dessert and beverage. Adults: $7 donation; children 12 and under, $3.50 donation. Carryouts available (please use Ottawa Street rear entrance, handicap-accessible). Tickets will be available at the door, and proceeds will be used for missions. There will be a "World Famous Pie Auction" at 6 p.m.
---

The first concert by the Lincoln Area Summer Band will be on Sunday, June 13, at 7 p.m. in Latham Park. Bring your lawn chairs and enjoy a summer evening of music. Ice cream and cake will be served by the Lincoln Woman's Club.
---

The growing season is in full swing, and the Original Farmers' Market Lincoln is happy to announce that this weekend vendors will have locally grown green beans available!
In addition, there will be black raspberries, broccoli, spinach, green onions and other early spring veggies.
The market has also added a new vendor on Wednesday evenings. Nancy Robbins is there for the evening market only with her beautiful handmade woven rugs. Be sure to stop by and take a peek at her amazing craftsmanship.
The Original Farmers' Market Lincoln is located in Latham Park on North Kickapoo, just north of the courthouse square. Their hours are Saturdays 7 a.m. to noon and Wednesday evenings 3:30-6.
---

There will be a Mount Pulaski anniversary fundraiser Saturday at Johnson's Foods, sponsored by Johnson's Foods and the Mount Pulaski 175th Committee members. The public is invited to attend. There will be a grilled barbecue pork chop sandwich sale. The store is located at 501 Chestnut St. in Mount Pulaski. The hours of the event are 11 a.m.-1 p.m.
---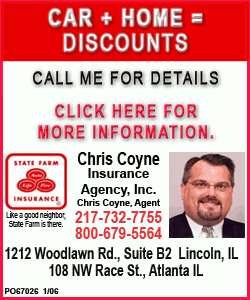 The New Holland Cruz-In is this Saturday, June 12, in downtown New Holland. There will be food by New Holland Fire Department, a 50/50 drawing, music, popcorn, dash plaques, Father's Day specials and many prizes. Come over and have fun. Bring your rods, classics, special-make cars and motorcycles. The hours are 4:30-8:30 p.m.
---

On Sunday, June 13, the Healing Life Society Garden Party will be held at Memorial Park in Lincoln, sponsored by the ALMH Auxiliary and Dr. Don, Jan and Anna Sielaff. The event is from 1 to 4 p.m. and the public is invited.
---
Got a good piece of news, information or something that we can all brag about? If you do, e-mail Mike and let us tell everyone about it. Plus you can win cash. Every submission, whether we use it or not, will get your name in the Close Up grab bag. At the end of the month we will draw a name and someone will get $25 just for dropping us an e-mail. If you wish, we will be happy to donate your winnings to the organization of your choice.
You can contact Mike at mikefak@lincolndailynews.com.
[MIKE FAK]