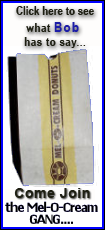 A statement from Palm Springs police on Thursday says London was kidnapped while changing a flat tire on June 10. A publicist for London also confirmed that the actor was the kidnapping victim.
The 37-year-old actor told police that several men helped him and he offered them a ride home.
Police say one man later pulled a gun, forced London to drive around, buy alcohol and take drugs.
London says he escaped but his car was stolen. Police later found it and on June 11 arrested 26-year-old Brandon Adams of Palm Springs.
Adam has been charged with kidnapping and other crimes and remains jailed.
London has appeared on TV series "7th Heaven" and "Party of Five."
Copyright 2010 The Associated Press. All rights reserved. This material may not be published, broadcast, rewritten or redistributed.