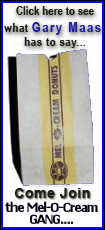 Not far away, a few blocks, is the county courthouse where Grimaldi just a month ago pictured himself having an office.

The attorney was working for the law firm of Muck & Muck on the square when he must have impressed Logan County State's Attorney Michael McIntosh, because when McIntosh needed an assistant state's attorney, he offered the job to Grimaldi. That was on Jan. 15. The young lawyer took the weekend to decide and accepted the post on Jan. 18.

Grimaldi gave his two weeks' notice to the Mucks and planned on becoming an assistant state's attorney starting Feb 1.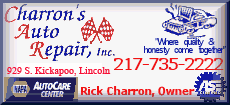 Then came the door slamming in his face. The Illinois attorney general's office told McIntosh that Grimaldi would not be a good choice for the position. Not because he wasn't qualified, but because Grimaldi had been appointed the public defender to Jennifer Earnest in the Gee family slayings. Although Grimaldi had petitioned to withdraw as the public defender for Earnest, the job offer was rescinded.
And so, a young, very bright attorney went from a good job, to a job he wanted even more, to not having a job at all. Grimaldi summed up that time period as "one heck of a two weeks."
Grimaldi says he did make some calls around to other counties to see if prosecuting positions were open, and he says there were some. But the young man said that in the end he knew he had made a commitment to practice law in Logan County, and that is what he decided to do. His wife, Jennifer, reinforced Jim's decision when she told him, "You don't want to go anywhere else."
Jim met his wife, a farm family girl from Auburn, while in college. The couple now have 13-month-old twin daughters named Gisella and Elena. Jennifer currently teaches art in Riverton.
With a determination to make it as an attorney in Lincoln, and with the support of his wife and family behind him, Grimaldi has now opened up shop for himself at his second-floor office on South Kickapoo.
How Grimaldi got to this place and moment in time is a fascinating story.
Jim was born in Lyon, France, while his parents were there to study. His parents are Dr. Pam Moriearty and Dr. Gabriel Grimaldi. His mother is a Lincoln native and the daughter of Jim Moriearty and the late Frances Moriearty of Lincoln. His father was a native of Rio de Janeiro, Brazil.
Jim says that shortly after he was born, the family moved back to Brazil for several years. In 1983 they came back to Lincoln, and this is where the young Jim Grimaldi grew up.
A graduate of LCHS in 1993, Jim spent one year at ISU before joining the U.S. Army as a linguistic interrogator, learning to write, read and speak Arabic fluently. He also was a paratrooper.
After 3 years of a 5 year commitment, Jim was released early in order to enter ROTC at Southern Illinois and upon graduation was commissioned as an intelligence officer.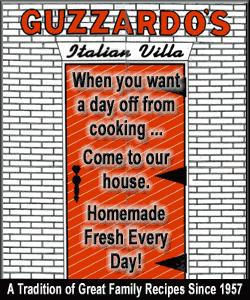 When asked if Arabic wasn't a very difficult language to master, Grimaldi shrugged the question off. Both his parents speak several languages fluently, and although Grimaldi admits he is a bit rusty, he speaks Portuguese and Spanish as well.
In all Grimaldi was in the service, both active and the National Guard, from 1995 to 2004.
While in the Guard, he went to law school at the University of Illinois, where he graduated with honors.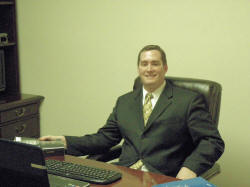 Grimaldi's background in law shows why McIntosh pursued the young man. A prosecutor in the Sangamon County's state's attorney office for 2 1/2 years, Grimaldi says he was made the chief DUI prosecutor after a year and had one of the highest conviction rates in the state.
He went to work for Muck & Muck because he wanted to get back to his hometown of Lincoln.
The criminal law side of the legal system has always been Grimaldi's first love, and he says he will concentrate on that aspect of the law in private practice.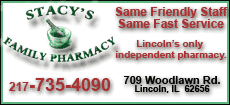 "My mother always told me to do one thing and to do it well," he said. "I found that one thing in criminal law. Whether on the prosecuting or defense side, I find criminal law fascinating, intriguing and challenging."
Grimaldi also says he has learned a love of community from grandfather Jim Moriearty, who had an insurance business in Lincoln for 60 years.
"I saw how satisfied he was having a business here, and I want to continue that family tradition of having a business here in Lincoln," he said.
Grimaldi will concentrate on cases dealing with felonies, DUIs, misdemeanors, traffic charges, driver's license reinstatements and expungements on a person's record. He says his experience being a prosecutor gives him knowledge and experience that other defense attorneys wouldn't have.
The phone number for Jim Grimaldi, attorney at law, is 217-651-8089.
[By MIKE FAK]