Railsplitter Covered Wagon rededication March 19

Send a link to a friend
[March 03, 2010] The Railsplitter Covered Wagon will be rededicated later this month at its new location. The unique wagon moved last fall from its previous home near J&S Auto and Penache Boutique to its new home in the front yard of the Best Western Lincoln Inn. The rededication ceremony, which will include presentations and special guests, is scheduled for March 19 at 4:30 p.m. The public is invited and encouraged to attend.
The ceremony will be followed by a fish and chicken dinner at 5:30 p.m. at American Legion Post 263.

The move was completed by Rankin Backhoe and Septic Service. They were able to move the wagon down Route 66 with police escort, thanks to the city of Lincoln and Logan County Sheriff's Department. (See pictures.) Once the wagon was settled and braced in its new home, Honest Abe, complete with a new paint job, was back on his high perch, reading his law book, and a split rail fence in his honor was erected around the perimeter of the wagon.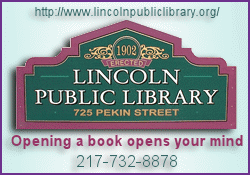 Plans for the future include a new Route 66 Scenic Byway wayside exhibit, through the Illinois Route 66 Heritage Project. Floral landscaping is also planned to finish up the beautification of this attraction along Route 66 in Logan County.
The wagon, which is listed in the Guinness Book of World Records as the World's Largest Covered Wagon, was purchased for the Abraham Lincoln Tourism Bureau of Logan County through a donation from Larry J. Van Bibber, a Lincoln resident.
The wagon was created by David Bentley while he was recovering from heart disease. Bentley wanted the wagon to be located in a community that was rich in both Abe Lincoln and Route 66 heritage, making Lincoln the perfect home.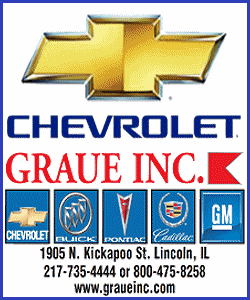 The rededication was announced by the tourism bureau, along with Van Bibber, Paresh Patel of the Best Western Lincoln Inn and American Legion Post 263.
The tourism bureau is very excited about the new home for the wagon and hopes that the entire community will come out and celebrate the end of the wagon's travels.
[Text from file received from Abraham Lincoln Tourism Bureau of Logan County]