YMCA notes

Send a link to a friend

[March 06, 2010] Get your kids excited about YMCA Volleyball Clinic. This program for kids first to sixth grade introduces the sport of volleyball and teaches the skills necessary to play. Participants will meet on Tuesday evenings, with first to third grade meeting at 5:30 p.m. and fourth to sixth grade meeting at 6:30 p.m. Registration ends March 16, so hurry in today.

For information on Lincoln Area YMCA programs and events, visit the office downtown at 604 Broadway St., Suite 1; call 735-3915; or visit www.lincolnymca.org. The YMCA Activity Center is at the former Odd Fellows gymnasium on Wyatt Avenue.
Winter Olympics may be over, but the games have just begun at the Y. Join us Friday, March 19, for Spring Games! This Y Party is for kids in first to fifth grade and will meet from 7 to 9 p.m. at the Y Activity Center. Participants will play exciting games like frisbee, golf, a four-square tournament, and have arts and crafts, pizza, and so much more. Register before March 16 to avoid late fees.

Fingerprints, fingerprints everywhere! Don't let fingerprints cramp your style. Send your kids to YMCA Fingerprint Creations. Kids will use their imaginations to turn inked fingerprints into everything from flowers to truck drivers. This creative class will be on Saturday, March 20, from 10:30 a.m. to noon for kids in first through sixth grade. Don't miss out on the crazy character making!

YMCA Spring Soccer is just around the corner. This Y program is for kids ages 3 1/2 to 12 years to introduce them to soccer fundamentals and techniques. Participants will practice once weekly. Games will be on Saturday mornings. Fees increase after March 18.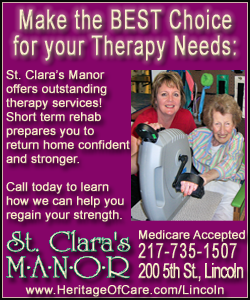 YMCA Spring Travel Soccer is offered as a more competitive league for kids 12-14 years. This league will compete against other YMCAs on Saturday mornings at the Springfield YMCA's soccer fields, located on the U of I at Springfield campus. Registrations will be accepted through March 18.
[Text from file received from Lincoln Area YMCA]