Lincoln Junior Woman's Club, Elkhart Historical Society, First Baptist Church, Kiwanis, U of I Extension and Ag Day Breakfast make Close Up
By Mike Fak
[March 12, 2010] The Lincoln Junior Woman's Club will host its seventh annual "Spring Craft and Vendor Fair" on Saturday, March 20, from 9 a.m. to 2 p.m. at the Lincoln Park District, 1400 Primm Road. There will be more than 20 booths from Lincoln and surrounding communities. The Lincoln Junior Woman's Club members will sell food and bake sale items at their "Jennie June Café." Funds raised will go back into the community for student scholarships, community beautification and supporting projects internationally.
---

The Elkhart Historical Society will present "Tales of Hog Marches and Cattle Kings," the first of the society's 2010 lecture series, on March 12. The Friday night dinner begins at 5:30, with the talks following from 7 to 8 p.m. at the Wild Hare Café in historic downtown Elkhart. Two speakers will talk about how local cattle and hog industries were influenced by the historic individuals who raised and sold livestock in central Illinois.
---

The First Baptist Church, 101 Broadway, is having a pancake and sausage breakfast Saturday, March 13. Everyone is welcome. The time is 7 a.m.–noon.
---

The Kiwanis Club of Lincoln is having its 24th annual ham and beans lunch Saturday at the American Legion Hall. Tickets are available at the door. Adults

$7; children under 6 eat free. All proceeds go to benefit local youth projects.
---

University of Illinois Extension in Logan County will offer a training session for day care providers on Monday, March 15, from 6 to 8 p.m. "Activities to get Kids Moving" will be presented by Patti Faughn, family life educator from University of Illinois' Springfield Extension Center.
---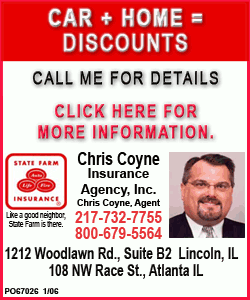 The Lincoln/Logan County Chamber of Commerce and partnering sponsors invite you to the 11th annual Ag Day Breakfast on Thursday, March 18, at 7 a.m. at Lincoln Christian University's Laughlin Center. This is a free community event to Logan County residents. This unique event provides a networking environment for both agriculture and business leaders. The purpose is to recognize the economic impact of agriculture in Logan County.
---
Got a good piece of news, information or something that we can all brag about? If you do, e-mail Mike and let us tell everyone about it. Plus you can win cash. Every submission, whether we use it or not, will get your name in the Close Up grab bag. At the end of the month we will draw a name and someone will get $25 just for dropping us an e-mail. If you wish, we will be happy to donate your winnings to the organization of your choice.
You can contact Mike at mikefak@lincolndailynews.com.
[MIKE FAK]